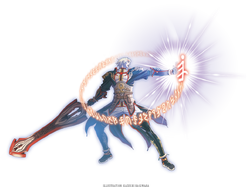 The rune fencer is a job capable of controlling the ebb and flow of battle through the use of offensive and defensive runes inscribed upon their flesh to bolster their combat capabilities. Just as with paladin and ninja, they excel in keeping their comrades safe, particularly with respect to magical damage from the elements. They are also practitioners of divine and enhancing spells, enabling them to be prepared for any engagement.
—Official Description
Rune Fencer is one of the jobs released in the expansion, Final Fantasy XI: Seekers of Adoulin.
Rune Fencer is the third 'tank'-type job of Final Fantasy XI, and the first job to specialize in the use of the Greatsword. Whereas Ninjas specialize in using shadow images to absorb attacks without taking damage and hindering the foe's attacks, and Paladins reduce incoming damage with shields and heavy armor while using White Magic to stay alive and draw the foe's anger, Rune Fencers are intended to use their damage dealing capabilities to help draw the foe's attention and use their spells and special job abilities to mitigate magic damage.
Rune Fencer's magical attacks and defenses have a strong elemental aspect, determined by which runes they happen to be "harboring" at the time. Built-up harbored runes provide elemental attack and defense, and furthermore can be expended for various effects.
Becoming a Rune Fencer
Edit
The quest to become a Rune Fencer is undertaken at Eastern Adoulin. The player must speak with Octavien to begin the quest "Children of the Rune". They then must acquire a Yahse wildflower petal to draw the runes on their body, and repeatedly attempt to use the rune enhancement until they succeed.
Rune Fencer Abilities
Edit
Job Abilities
Edit
Job Traits
Edit
Spell List
Edit
Skill Ratings
Edit
It's a more capable "magic swordsman" type than Red Mage, whose archetype it overlaps with.
Finally, a greatsword specialist. Greatswords are very powerful weapons with an extremely powerful merit Weapon Skill, Resolution. Deals more damage than a Paladin.
Rune Fencer has a number of abilities to support its party, such as granting a temporary immunity to magic and weakening an enemy's magic defense, strengthening all damaging spells cast by your party on the target.
Tied with Corsair for best Parrying skill.
Weaknesses
Edit
While high parry plus the enhanced parry trait do help to mitigate some damage, against stronger enemies, parry is of limited effect, since it does not work as often as shield blocking.
Although intended to take the brunt of the monster's inflicted damage, Rune Fencer is somewhat weak against physical attacks and can't wear heavy armor. Since almost no monsters attack with magic exclusively, Rune Fencer becomes more situational in its use, rather than someone you can always pick when you need a tank.
Most of Rune Fencer's magic defense capabilities are effectively limited to a single element at a time. While many magic-using monsters focus on a single element, there are also many that do not.
Rune Fencer is overshadowed in its defining role by a Paladin with a fully-upgraded Aegis Shield, though this shield is not easy to obtain and not every Paladin will have one.
While Rune Fencer is supposed to use their damage-dealing capabilities to help hold hate, part of their damage comes from added effect elemental damage, which is believed to be hateless.
Note: Like new jobs in the past, Rune Fencer and Geomancer are still brand new and being fleshed out. Both are missing certain features, such as Artifact Armor and Merit Points, which will be implemented in a future version update.
Rune Fencer is too new to have a set of agreed-upon standard subjobs yet.
Other appearances
Edit

This article or section is a stub about Final Fantasy Trading Card Game. You can help the Final Fantasy Wiki by expanding it.
Etymology
Edit
[view · edit · purge]Runes are the letters in a set of related alphabets known as runic alphabets, which were used to write various Germanic languages before the adoption of the Latin alphabet and for specialized purposes thereafter. Historic anthropology regarding the Germanic and Norse peoples that used runes also note that the language was also highly used in magical practices related to these cultures, whether it be in divination, enchantment, and incantation.
Ad blocker interference detected!
Wikia is a free-to-use site that makes money from advertising. We have a modified experience for viewers using ad blockers

Wikia is not accessible if you've made further modifications. Remove the custom ad blocker rule(s) and the page will load as expected.