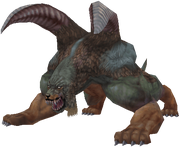 Ruminant is a fiend type in Final Fantasy X and Final Fantasy X-2 characterized as a bull-like creatures with two giant horns protruding from their backs they use to ram into their enemies with their signature move Gore (Final Fantasy X) or Skewer (Final Fantasy X-2). In Final Fantasy X-2 they Oversoul after 12 kills and change their signature move to Stampede to simply run over their enemy. They also use the attack Flame Ball in Final Fantasy X for Fire-elemental damage on their enemies.
Ruminant Coin
Coin No.
14
Coin Value
1
Trait
Item
Location
Found in the Western or Southern Expanses of the Bikanel Desert.
Ad blocker interference detected!
Wikia is a free-to-use site that makes money from advertising. We have a modified experience for viewers using ad blockers

Wikia is not accessible if you've made further modifications. Remove the custom ad blocker rule(s) and the page will load as expected.