Rubicante
Talk

18
17,037 pages on
this wiki
Leader of Golbez's elemental archfiends, dubbed the Autarch of Flame.
—Dissidia Final Fantasy Summon Compendium
Rubicante (ルビカンテ, Rubikante?), also known as Rubicant, is a recurring character in the Final Fantasy universe. First appearing in Final Fantasy IV as a minor villain, he is one of the four archfiends associated with the elements; in this case, fire. Despite his role as an antagonist, he has a strong sense of honor and fair play, unlike the other archfiends.
Appearances
Edit
Main article: Rubicante (Final Fantasy)
Rubicante appears in the Dawn of Souls and 20th Anniversary remakes as a boss at the last floor Hellfire Chasm, one of the bonus dungeons for the remakes. Defeating him will take the player off the dungeon, and he drops a Kikuichimonji.

For the battle information, see: Rubicante (Final Fantasy IV Boss)
I respect men like you. Men with... courage. But you are a slave to your emotions, and so will never know true strength. Such is the curse of men.
—Rubicante
Rubicante is a boss in the Final Fantasy IV. He is one of Golbez's Archfiends, and is the Element Lord of Fire, titled the Autarch of Flame. He is considered to be the most powerful of the four, and is their leader.
In spite of his less than savory actions, he is an honorable fighter at heart, and restores the party's health before every fight against him. He wears a "Cloak of Flame", which, when donned, absorbs all elemental magic, though ice elemental weapons can still damage him (the DS version is an exception to this). He is voiced by Lee Everest and Norio Wakamoto in the English and Japanese versions respectively.
In this game, Rubicante is one of the many versions of Ifrit. This model has only two attacks, and has the lowest HP maximum among the fire Eidolons.
Rubicante is a summon from Dissidia Final Fantasy. He is summoned as a counter to an opponent's summon and triples the summoner's Bravery points. His original artwork from Final Fantasy IV is used in this game.
Rubicante can be obtained on the second stage of the Shade Impulse III storyline. When the player collects Rubicante's Summonstone, the dialogue mirrors what Rubicante says to Edge before his boss battle in Final Fantasy IV.
Like the other Archfiends, Rubicante appears to act as a "counter" version of one of the original Final Fantasy's Four Fiends. Specifically, Rubicante's Inferno accomplishes the same result as Tiamat's Wind Arcana; tripling the Summoner's Bravery. Both Rubicante and Tiamat are the fourth and final "fiend" the party encounters in their respective games.
There is also an equipment bearing his name, called "Rubicante's Cowl".
In Dissidia 012 Final Fantasy, Rubicante has the same function from the previous Dissidia. He can be purchased from certain Moogle Shops for 100 KP. The headgear referencing him also returns.
Rubicante, as like his fellow archfiends, also appears as a tutor for the Labyrinth feature at the in-game manuals.
Rubicante, along with the other elemental archfiends, makes an appearance as an enemy in Theatrhythm Final Fantasy.

Rubicante from Final Fantasy IV appears in Pictlogica Final Fantasy as an enemy.

Rubicante appears in Final Fantasy Airborne Brigade as an enemy during an event called "Showdown". In battle, Rubicante uses Scorch.
Rubicante appears as a boss in Final Fantasy All the Bravest.
Non-Final Fantasy AppearancesEdit
Rubicante is a card in the sequel to Lord of Vermilion along with other characters from Final Fantasy IV, as a special cross promotion.
Guardian CrossEdit
This leader of the Elemental Archfiends bends fire to his will and dons a cape which wards against ice, his sole bane.
—Description
Rubicante, along with Cagnazzo, Scarmiglione, and Barbariccia are all promotional cards in the game Guardian Cross, all of whom were special captures to celebrate the release of Final Fantasy IV for the Apple iPad. All of them are Rank 5 (the rarest), with Rubicante being a Humanoid-type Guardian that would have been found in the Glaverow Volcanic Zone.
Rise of ManaEdit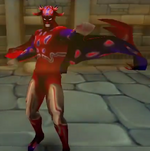 Etymology
Edit
Rubicante's name comes from the Inferno, part one of the Dante's Divine Comedy. He is one of the Malebranche ("Evil Claws") who guards the 5th Malebolge in the eighth circle of Hell (Cantos XXI through XXIII). His name means "he who grows red". He also makes a reference to the circles of hell before his first battle in which he states, "Not even the frozen winds of hell's ninth circle can penetrate this cloak of flames I wear".