Roye
Talk

0
13,962 pages on
this wiki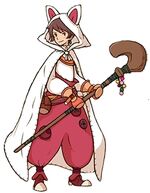 Roye is a hume Seer from Final Fantasy Tactics A2: Grimoire of the Rift. Because of the hood he wears, many people and monsters mistake him for a very large white cat.
The mission that features Roye, The Cat's Meow, has Clan Gully protect him from and defeat the monsters that would have otherwise made a meal out of him. In gratitude, Roye teaches Clan Gully the arts of the Seer, after they advise him to take off the hood.
He is rather adept, having mastered Thundara, Cura, and Magic Frenzy, and he is equipped with a Sage Robe, a Ribbon and an Edaroya Scriptures.
Equipment
Edit
Weapon: Edaroya Scriptures
Armor: Sage Robe
Accessory: Ribbon
Abilities
Edit
| Skill | Effect | Range | MP Use |
| --- | --- | --- | --- |
| Thundara | Deals strong Lightning damage. | 4 | 14 |
| Cura | Heals HP; also damages Undead monsters. | 4 | 14 |
| Magick Frenzy | Allows user to follow up a spell with a physical attack. Does not work with Raise, Arise, or any Blue Magick (Except for Quake). | Depends on spell used | Depends on spell used |
Roye is shown to be rather confident in his abilities by choosing to travel alone. However, if the player is not mindful of his status in the mission, he could very well go down in the first two or three turns.