Royal Sword
Talk

5
13,959 pages on
this wiki
Relm

: I couldn't miss the chance to practice my drawing!
This article is in need of a few pictures. Perhaps you can help by

uploading

and adding a picture or two.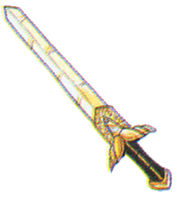 The Royal Sword (キングスソード, Kingusōdo?), also known as the Kingsword and King, is a recurring piece of equipment in the Final Fantasy series. It is a low-ranking sword.
Appearances
Edit
The Royal Sword is found in Castle Hein. It has an Attack power of 40, but no other special bonuses.
The Kingsword is Cecil's default sword. It has an Attack power of 40, a Hit rate of 40, and boosts Spirit by 3. Only Cecil is meant to use it, but due to a bug Kain can also equip it at one point, although it is worse than his default weapon.
The King Sword, called King with a sword icon before its name, is an extremely powerful sword found in the very first world of The Final Fantasy Legend. It's a Strength-based weapon with infinite uses and notable power (8, comparable to the Ogre and Dragon swords mid-to-late game). The player will unfortunately not be allowed to keep it, having to surrender it along with the other King equipment to restore the Hero Statue and retrieve the Black Sphere. It is wielded by the enemy character also known as "King Sword," who will use it to attack the player.
The Royal Sword is also a unique weapon for Onion Knight. It is a Level 92 weapon that increases Attack by 63 and damage done by 10%. It can be obtained by trading 29,570 gil, a Tyrfing, five Goddess's Magicites, and three Recovery Crystals.
The Royal Sword returns in this game. The Royal Sword is a level 90 exclusive weapon for Onion Knight and provides +63 Attack and +7% damage. It can be obtained by trading 158,000 gil, a Tyrfing, an Electrum, and five Youth's Dreams.