Rough Divide (ラフディバイド, Rafu Dibaido?) is a recurring ability in the series, and is the Limit Break for Squall Leonhart. It is generally a single, powerful physical attack.
Appearances
Edit
Rough Divide is the initial finishing move for Squall's Renzokuken Limit Break. It is the weakest of Squall's finishing moves, as it only hits one target, but has slightly stronger power than either Fated Circle or Blasting Zone, having an attack power of 48.
Rough Divide is a HP Attack for Squall, initially acquired at the start of the game for the ground version and level 16 for the midair version. It requires 300 AP to learn and 40 CP to equip (20 if mastered), has Melee high priority, and can induce Wall Rush.
Rough Divide returns as a HP Attack for Squall, retaining the same properties as in the previous game, although the ground version can only be acquired at level 31. Rough Divide can trigger the Walking in air glitch. He also has a red version of his Rough Divide called Revolver Drive where he can hit opponent with this ability while briefly steering in seconds.
Rough Divide appears as an HP attack for Squall once more, unlocked at character lv. 2. Squall closes in on a target and launches them into the air with an upwards strike of light.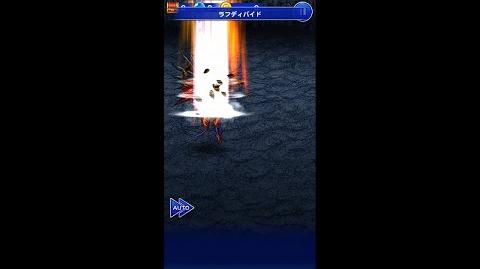 Non-Final Fantasy Appearances
Edit