Rosa Joanna Farrell
18,963 pages on
this wiki
Talk

131
Rosa Joanna Farrell is a playable character in Final Fantasy IV and its sequel, Final Fantasy IV: The After Years. She hails from Baron, and is a skilled Archer and White Mage. Rosa is Cecil Harvey and Kain Highwind's childhood friend, and harbors romantic feelings for Cecil. Though Cecil is reluctant to let her follow him into danger at first, she stays by his side.
In the English localization of the 3D version, Rosa is pronounced [ˈɹoʊ.zə].
Appearance
Edit
Rosa has blonde hair styled as a half updo with long bangs. She wears spiked pauldrons over a floor-length white and gold cape, a sleeveless white top with long, decorated gloves and a large belt that holds a dagger on her side. She wears a white patterned pantyhose, gold and pink knee braces and light purple ankle boots. She is said to be the most beautiful woman in Baron.
In Final Fantasy IV: The After Years, Rosa wears a long-sleeved and floor-length white gown with small horned pauldrons and a silver belt. She wears fingerless gloves, gray sandals, and a decorated pink and purple cape. Her hair is still styled as a half updo, but it is mostly concealed by her cape and she now has longer bangs framing her face.
Personality
Edit
Rosa is gentle and kind by nature. She is strong at heart, willing to follow Cecil into dangerous situations and stand by him despite his numerous objections. She also takes care of the other party members, encouraging Rydia when she is frightened and forgiving Kain without hesitation. Like Cecil, she is deeply concerned about Baron's aggression and wants to help warn the other nations. As Queen of Baron, Rosa continues to be a steadfast support for Cecil, while as a mother, she worries for Ceodore as he struggles to obtain his Proof of Knighthood and become as strong as his father.

As a mage, Rosa's stats are weighted in magic but despite that Rosa is an adequate physical attacker due to wielding bows, especially when attacking flying enemies weak to arrows.
Abilities
Edit
As a White Mage, Rosa can cast White Magic. She learns every White Magic spell in the game, although some she learns at levels different from Porom. Her other two abilities are Aim and Pray. Aim allows Rosa to charge up a slightly stronger attack that never misses at the cost of executing slower, and is only usable while Rosa is equipped with a bow. Pray restores a small amount of HP to allies if successful, roughly equivalent to a Cure spell.
In the 3D remake release, Pray has a higher chance of success and restores both HP and MP, the amount healed based on a percentage of each party member's max HP and MP. Rosa also learns her White Magic at different levels. In the Game Boy Advance and The Complete Collection releases, completing Rosa's Lunar Trial rewards her with the White Ring, which upgrades Pray to Miracle. Miracle casts Cure on a failure, Cura normally, and randomly casts Curaga and Esuna.
Equipment
Edit
Rosa's equipment includes most mage equipment such as light tunics, caps, hoods, and robes. Her weapon arsenal includes staves, bows, and arrows.
Sidequests
Edit
In the Game Boy Advance version of Final Fantasy IV, each character has his or her own Lunar Trial. Rosa's trial focuses on using her White Magic abilities to heal injured people, culminating in a battle with Lunar Asura.
Rosa's Pray, Aim and White Magic return with the same attributes as in Final Fantasy IV. She joins the party at Level 30 with all the spells she would normally learn up to that point, including Teleport, and will learn new spells at the same levels as in Final Fantasy IV. She comes equipped with a Healing Staff, Sage's Miter, Sage's Surplice, and Rune Armlet.
Equipment
Edit
Rosa has fairly good HP, the highest of the dedicated mage-type characters, and her Aim ability and decent Strength let her be a respectable attacker. Compared to fellow White Magic users Porom and Leonora, Rosa has greater HP, Strength and Stamina but lower MP and slightly lower Spirit than Porom, and all-around greater stats than Leonora.
| Level | HP | MP | Strength | Speed | Stamina | Intelligence | Spirit |
| --- | --- | --- | --- | --- | --- | --- | --- |
| 15 | 320 | 180 | 12 | 11 | 9 | 11 | 22 |
| 20 | 497 | 221 | 16 | 13 | 12 | 12 | 27 |
| 30 | 984 | 309 | 24 | 17 | 18 | 14 | 37 |
| 40 | 1571 | 333 | 30 | 23 | 24 | 16 | 48 |
| 50 | 2379 | 422 | 36 | 28 | 30 | 18 | 58 |
| 60 | 3206 | 512 | 44 | 31 | 36 | 23 | 66 |
| 70 | 4069 | 605 | 48 | 34 | 43 | 28 | 71 |
| 80 | 4366 | 654 | 50 | 35 | 44 | 30 | 74 |
| 90 | 4690 | 702 | 52 | 37 | 46 | 31 | 77 |
| 99 | 4971 | 733 | 54 | 38 | 47 | 32 | 79 |
Abilities
Edit
Rosa can cast White Magic and has the command Blessing, which heals some HP and MP to the entire party similar to Pray in the 3D remake of Final Fantasy IV.
Band Abilities
Ability
Members
MP
Effect
Divine Heal

Rosa (Blessing)
Ceodore (White Magic)

28
Cast White Magic on party, effect is reliant on the phase of the moon. Effects are Curaga and Shell (Full Moon), Curaga and Protect (Waning Moon), Curaga and Esuna (New Moon), or Curaja (Waxing Moon).
X Chaser
12
Critically strike a single enemy, possibly inflicting Instant Death.
Saint Dive

Rosa (White Magic)
Kain (Jump)

30
Attack all enemies with divine wrath.
Holy Blade

Rosa (White Magic)
Cecil (Fight)

15
Slice a single enemy with a sword wreathed in holy power.
Holy Burst

Rosa (White Magic)
Rydia (Black Magic)

55
Holy magical attack on all enemies.
Holy Ray

Rosa (White Magic)
Porom (White Magic)

50
Holy magical attack on all enemies.
Holy Cross

Rosa (White Magic)
Cecil (Attack)
Ceodore (Attack)

35
Strike all enemies with sword containing holy power.
Pure White Magic

Rosa (White Magic)
Leonora (White Magic)
Porom (White Magic)

99
Casts numerous status buffs on all party members including Haste, Protect and Shell, and restore HP and status ailments.
Effect Form

Rosa (Blessing)
Cecil (White Magic)
Kain (White Magic)

20
Cast Curaja, Protect, Shell and Haste on users.
Trinity Crusade

Rosa (White Magic)
Cecil (Fight)
Kain (Jump)

35
Three fighters combine to attack one enemy.
Final Fantasy

Rosa (White Magic)
Cecil (Fight)
Edge (Throw)
Kain (Jump)
Rydia (Black Magic)

75
Attack all enemies and heal party with a powerful combination.
Vibra Prime

Rosa (Aim)
Cecil (Fight)
Ceodore (Fight)
Cid (Fight)
Kain (Fight)

40
Five fighters slice away at all enemies.
Infinity

Rosa (White Magic)
Leonora (White Magic)
Palom (Black Magic)
Porom (White Magic)
Rydia (Black Magic)

60
Five fighters combine to cast powerful magic on enemies and heal themselves.
Temptation

Rosa (Aim)
Harley (Gil Toss)
Izayoi (Illusions)
Rydia (Black Magic)

19
Surprise one enemy with an attack.
Equipment
Edit
Weapons

| Bows and Arrows | Staves | Whips |
| --- | --- | --- |
| | | |
Armor

| Shields | Head | Body | Arms |
| --- | --- | --- | --- |
| | | | |
Rosa is fought in Final Fantasy IV: The After Years in Kain's Tale. It is impossible to damage her in any way, and thus the player should only focus on Edward instead.
Musical themes
Edit
Rosa's theme is called "Theme of Love". It is played in scenes between her and Cecil, and is meant to symbolize the love between them.
Other appearances
Edit
Rosa appears as a playable DLC character, based of her appearance in the 3D remake.
She is a Support and Defense oriented character.
Abilities
Edit
Rosa is an ally and a summonable Legend. Her EX ability is Aim.
Rosa is a playable character who could initially be recruited during the Challenge Event The Burning Blade as the First Time Reward for completing the event's Tower of Zot - Spire stage on Classic difficulty. She has also appeared in Twin Stars of Mysidia.
Assessment
Rosa is a White Mage. Her combat role is Healing Magic.
As one of the most celebrated characters in her class, it should come as no surprise that Rosa is a strong support unit. While she isn't nearly as versatile as her Summoner successors Garnet, Eiko, and Yuna, or even Lenna as presented in this game, she is equally as potent in her craft as they are in theirs. Low HP and average Accuracy do not serve Rosa justice, as in her original game she was equally renowned for her prowess with a bow.
Stats
Level
HP
Attack
Defense
Magic
Resistance
Mind
Accuracy
Evasion
Speed
1
178
8
7
8
10
12
20
20
92
50
2,981
76
58
78
101
120
22
22
118
Rank

Max: 5

2
2
1
2
4
5
3
3
3
Abilities
Rosa can use White Magic spells up to rarity rank 5, Support abilities up to rarity rank 4, and Celerity abilities up to rarity rank 1.
Her default Soul Break is Trueshot Bow which at the expense of one Soul Gauge segment deals ranged physical damage to one target. The bow Elven Bow (IV) allows Rosa to use Divine Favor.
Equipment
Rosa can equip the following weapons: daggers, staffs, and bows. The bow Elven Bow (IV) allows Rosa to use Divine Favor.
She can equip the following armor types: hats, robes, and bracers.
She can equip accessories.
Rosa is depicted on a few cards. One card features her SD art, while the other features her DS CG Render.
Rosa appears on cards in the version available via Final Fantasy Portal App.
Non-Final Fantasy guest appearancesEdit
Rosa appears as a unit in a collaboration event.[1] Rosa Farrell and Queen Rosa of Baron are units and their ability is Esuna. Rosa Farrell can be promoted to Queen Rosa of Baron.
Other media
Edit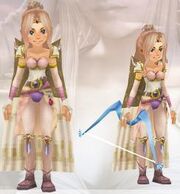 Users in Square Enix Members Virtual World community can make their character appear as Rosa Farrell.

Etymology
Edit
[view · edit · purge]Rosa is the Latin word for "rose". It is written identically in Italian, Portuguese, and Spanish. It is also an Italian, Portuguese and Spanish female name; the German, Norwegian, Swedish, Portuguese, Italian and Spanish word for "pink"; and the Bulgarian, Czech and Polish word for "dew".
Rosa's middle name is only revealed in the novelization of the game.[2] According to the novel, Rosa takes the name from her mother, Joanna Farrell. Rosa becoming a queen with this name may also be an oblique homage to Queen Jayne, as both Joanna and Jayne are alternative derivations of the same Hebrew name; English Ja(y)ne is in fact directly derived from Latin Jo(h)anna via French Jeanne.
[view · edit · purge]"Joanna" is a derivation of the Hebrew name יוֹחַנָּה, Yōḥannā, which means "YHWH is gracious".
[view · edit · purge]Farrell is an Irish surname that is the anglicized form of the Irish Gaelic name Ó Fearghaill, which means "a person of great courage" or "heroic".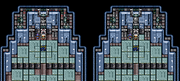 In one cutscene in the original version, Rosa is rescued at the last moment from being executed by a giant scythe. The scythe was replaced with a giant metal ball in the North American version.
In Japan, TV commercials advertising Final Fantasy IV for the Game Boy Advance included a model dressed as Rosa as portrayed by Yoshitaka Amano's concept art of her.
The opening video for the Nintendo DS remake of Final Fantasy IV depicts Rosa with a sword on her belt and wielding a staff to battle, despite the fact she does not wield them.
In pre-release screenshots for The Complete Collection, Rosa has a different menu portrait, with a longer face, less-prominent bangs and blue eyes instead of green.
Over the course of Final Fantasy VII, Cloud Strife will take a character on a date through the Gold Saucer. One segment of this date involves Cloud and the other character performing in a play in which Cloud plays a valiant knight named Albert and his date plays a kidnapped princess named Rosa. Rosa and Albert defeat the antagonist, the Evil Dragon King, through the "power of love" between them.
In a Favorite Character poll conducted at Square Enix Party 2007, Rosa ranked 5th out of all the major characters. For comparison, Cecil got first, Kain second, Rydia third, and Cid fourth.
Rosa is notable for being the first love interest in the series and the first female White Mage, a trait that other females like Garnet from Final Fantasy IX, and Yuna from Final Fantasy X followed.
Screenshots in the instruction manual of Final Fantasy Origins assign the name Rosa to the White Mage from the original Final Fantasy.
Even though Rosa marries Cecil, she does not seem to take his last name of Harvey.
References
Edit