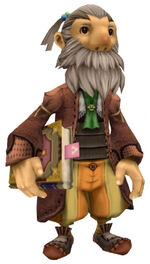 Roland is the Clavat patriarch of the village Tipa in Final Fantasy Crystal Chronicles. He stands near the town's Crystal and gives advice to the Caravanners.
At the beginning of the first few years, he tells the story of a young man who left the village to rid the world of the poisonous Miasma which causes endless problems for everyone in the world. The young man is implied to have been Hurdy. As Tipa's patriarch Roland plays a role in the village's yearly crystal restoring ceremony.
Etymology
Edit
[view · edit · purge]The name "Roland" is a German name that means "famed throughout the land".
This article or section is a stub about a character in Final Fantasy Crystal Chronicles. You can help the Final Fantasy Wiki by expanding it.
Ad blocker interference detected!
Wikia is a free-to-use site that makes money from advertising. We have a modified experience for viewers using ad blockers

Wikia is not accessible if you've made further modifications. Remove the custom ad blocker rule(s) and the page will load as expected.