Rikku
18,962 pages on
this wiki
Talk

50
Rikku is an Al Bhed girl who is a playable character in both Final Fantasy X, and its direct sequel, Final Fantasy X-2.
Before the events of Final Fantasy X, Rikku's mother died in an incident involving a faulty machina. Rikku's father is Cid, the leader of the Al Bhed faction, and she has an older brother named Brother. Cid's sister (Rikku's aunt) married summoner Braska, Yuna's father, thus making him Rikku's uncle. Rikku and Brother are Yuna's maternal cross cousins.
In Final Fantasy X, Rikku is the first friend Tidus makes in Spira, and she becomes Yuna's final guardian on her pilgrimage.
In Final Fantasy X-2, Rikku convinces Yuna to become a sphere hunter, and accompanies her on her personal quest.
Appearance
Edit
In Final Fantasy X, Rikku is fifteen years old and has medium-length blonde hair in a ponytail and braided pigtails with orange feathers. She has the Al Bhed trademark green eyes with swirled pupils, although in FMV cutscenes Rikku's eyes have normal pupils instead.
When she is first met aboard the salvage ship, Rikku wears a full Al Bhed combat diving suit that conceals her identity. When she joins Yuna's pilgrimage and sheds the suit, she wears a pair of flared green short-shorts with an orange belt and an orange sleeveless tank-top with side straps and two long blue ribbons hanging from the back. She wears a pair of goggles around her neck, a pair of boots, a gauntlet and arm guard for her right arm and a large protective forearm mitt for her left. Around her right thigh she keeps a pouch for her alchemy materials and equipment. Rikku's nails are painted yellow. Despite carrying goggles around her neck and wearing them while salvaging and piloting machina, Rikku never wears her goggles again after she takes them off on the Moonflow.
Rikku's Final Fantasy X HD Remaster cutscene model lacks earrings.
In Final Fantasy X-2, the now 17-year-old Rikku wears her longer hair loose and braided, tied atop her head, adorned with colorful beads, and held by a blue bandanna. Rikku has unique outfits for each of the thirteen dresspheres used in combat with details that distinguish her from Paine and Yuna. Rikku's default look is the Thief dressphere, where she wears a yellow g-string bikini and an olive green mini-skirt, carrying two pouches at her waist and ruffle sleeves. A long yellow and red scarf hangs loosely around her neck. Wearing the Thief dressphere in combat, she wields two red dagger-like blades designed for rapid attacks.
In other dresspheres, she wields Yuna's Tiny Bee guns and summoning staves El Dorado and Spiked Rod, as well as Tidus's Crystal Sword, Auron's Katana blade and his Masamune katana. Her deck theme for the Lady Luck dressphere is clubs, and her Mascot dressphere is a Cait Sith.
In Kingdom Hearts II, Rikku's hairstyle remains unchanged and her default Thief dressphere has a minor changes: she wears a yellow tube top and an orange skirt with two yellow ribbons and white ruffle sleeves. Her long scarf is now red with an orange tint. She now wears white knee-high socks and her boots are white with blue folded sleeves.
Personality
Edit
In Final Fantasy X, Rikku is kind-hearted, spirited, happy-go-lucky, and energetic, which sometimes clashes with the more stoic group members. She looks up to Lulu as a role model, being impressed with her calm level-headed nature. Rikku tries to maintain a positive outlook but there is a stark contrast when she is upset, and despite her outwardly happy exterior, she carries some insecurities, particularly when it comes to her future and what she wants to be. Rikku is bilingual and skilled in chemistry and alchemy. She suffers from astraphobia, the fear of lightning, after a mishap involving Brother and a stray Thunder spell in her youth, but has overcome it by Final Fantasy X-2 by camping out in the Thunder Plains for a week. Rikku is also very loyal to Yuna—whom she affectionately calls "Yunie"—and is the most vocal opponent against the ongoing pilgrimage. She bonds with Tidus, perhaps because of their similar personalities and devotion to Yuna.
In Final Fantasy X-2, remaining loyal to her cousin Yuna, Rikku continues to care about her welfare while encouraging her to have more fun in life. She is now Yuna's role model as Yuna sometimes copies her erratic behavior and unique expressions, though Rikku sometimes reprimands Yuna for using foul language. Rikku remains the ever upbeat and somewhat reckless individual, occasionally causing trouble for her friends, and also remains insecure about her future.
Rikku fears snakes, sometimes shouting "Snake! Snake! Snaaaaaaake!" when entering battle against a snake-like enemy such as a Recoil.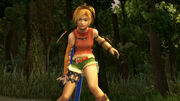 Rikku's image class is a mix of Chemist and Thief. She uses claws for weapons, and targes as armor.
She can, by default, steal and use special items. Rikku can instantly kill machina-type fiends with the Steal command. When counterattacking regardless of whether the opponent is on the ground or in the air, Rikku does a spinning backhand. When countering underwater Rikku punches the fiend if they are close, but if they move faster, Rikku will perform a regular underwater attack as a counter.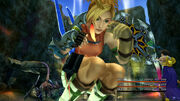 Her Overdrive is Mix, which lets her combine two special items for various effects.
Rikku is one of only three characters in Final Fantasy X (Tidus and Wakka being the other two) who can fight underwater.
She is agile and quick and her default Strength is the highest of the three girls, although still not particularly high. She has good HP.
Note: Values in parentheses are node stat bonuses.
Equipment
Edit
Rikku uses claws for weapons and targes for armor. It is never explained why Rikku uses claws rather than a machina weapon like other Al Bhed. One reason may be that she is the one who salvages machina from the deep sea, as demonstrated when she and Tidus salvaged the Fahrenheit, and machina cannot be used in those situations.
Abilities
Edit
Rikku's Sphere Grid area runs near Yuna's and Lulu's, and her Sphere Grid color is green. The unique abilities in Rikku's default position on the Sphere Grid include the following:
Note: Abilities denoted with an asterisk (*) are available in the International, PAL, and HD Remaster version of Final Fantasy X.
Ability
Description
Ability
Description
Use
Use special items.
Steal
Steals items from enemies.
Luck
Raises party's luck.
Spare Change
Attack by throwing gil.
Mug
Attack and steal items at the same time.
Bribe
Pay an enemy to make it go away and relinquish items.
Pilfer Gil*
Steal gil from an enemy.
Copycat
Mimic an ally's previous action.
Full-Life
Revive a KO'd party member with max HP.
Before and during battle Rikku can change job class by changing dresspheres. Her special dressphere is the Machina Maw and her Mascot dressphere is the Cait Sith. Rikku's default dressphere is Thief. As a Trainer her pet is a monkey called Ghiki.
Rikku specializes in elemental and physical attacks and magic.
The girls all have different EXP totals and therefore progress at different rates. Rikku's level growth is at first the fastest, but later it becomes the most moderate.
Dresspheres
Edit
A possessed Rikku is fought in the Den of Woe by Yuna.
Due to their babysitting Wakka and Lulu's baby, Vidina, the Besaid Aurochs allow the Gullwings to take their place in the tournament. Blitzball is available to play in Luca during Chapter 5 of Final Fantasy X-2.




Stats

| LV | Start | Max |
| --- | --- | --- |
| SP | 35 | 35 |
| EN | 2 | 43 |
| AT | 2 | 22 |
| PA | 4 | 78 |
| BL | 4 | 82 |
| SH | 2 | 45 |
| CA | 1 | 34 |
| RNG | 38 | 89 |
| REC | 28 | 190 |
| RCH | 65 | 65 |
Rikku Coin
Coin No.
58
Coin Value
9
Trait
Coin Count Echo
Location
Win from the Bevelle Core Sphere player in the Luca Stadium.
Creation and development
Edit
Rikku's Japanese voice actress is Marika Matsumoto, while her English voice actress is Tara Strong. Rikku shares her Japanese voice actress with Mutsuki Chiharano from Final Fantasy Type-0.
Tara Strong stated that she started voicing Rikku by first receiving the original recordings in Japanese, and that she received character's overall description to help her portray the character. Tara said Rikku was easy to portray and quite straightforward.[1]
Rikku, as well as her English voice actress; Tara Strong, has received several awards for her portrayal. In 2004, Tara Strong was the co-winner of the Academy of Interactive Arts & Sciences award for "Outstanding Achievement in Character Performance - Female" for her portrayal of Rikku in Final Fantasy X-2.
In the Final Fantasy X-2 HD Remaster Rikku will occasionally say lines in Japanese during battle. These lines were done by her English voice actress, Tara Strong. This is because in the original Final Fantasy X-2: International + Last Mission Square got the English voice actresses to record the new English battle dialogue for the Festivalist and Psychic dresspheres, and recorded Japanese quotes one might hear any time during a battle. For Rikku these new quotes are Kono! (You little...!), Yossha! (Alright!), Choi choi tte kanji (Feeling good!) and Wasshooi! (Heave-ho!).
Musical themes
Edit
"Rikku's Theme" in Final Fantasy X is a variant of the theme of the Al Bhed, "Oui are Al Bhed", and plays when Tidus reunites with her on the northern bank of Moonflow. "Rikku's Theme" is arranged for piano on the Piano Collections: Final Fantasy X album.
Her themes in Final Fantasy X-2 are two fast, upbeat pop themes that have been vocalized on the Final Fantasy X-2: Vocal Collection - Rikku album. The vocal versions of the themes are sung by Rikku's Japanese voice actor, Marika Matsumoto.

Other appearances
Edit
Rikku appears as a recruitable character. She is of the Visitor race and has Thief as her main job. Her attack is Pilfer HP.
Rikku makes a cameo as a tutor from the in-game manuals. Along with Wakka she explains how to use the shop system. She uses her Final Fantasy X portrait.
Rikku appears as an unlockable character, and is unlocked by collecting Peach Crystal Shards.
She is a Speed oriented character. Her Limit, Vajra, deals damage in proportion to her Magic and Stamina.
Abilities
Edit
Rikku appears as a playable character. Her initial weapon is the Blind Dagger.
Rikku appears as an ally and a summonable Legend. She is depicted in both of her Final Fantasy X and Final Fantasy X-2 outfits and her Kingdom Hearts II outfit.
Rikku is a playable character who could be recruited during the Challenge Event Defying Fate as the First Time Reward for completing the event's Dome - The Beyond stage on Classic difficulty. She has also appeared in Eternal Calm.
Assessment
Rikku is a Guardian whose combat role is Physical Support.
Fitting with the roles given her by her source game, Rikku is a natural Thief as well as a Machinist. Her weapon selection, however, is reflective of a Monk. All this puts her in a bit of an odd spot within the player's roster. She is neither strong nor weak in her core physical stats, but like most of her castmates, Rikku is short on defense. Still, few are better choices for controlling the speed and flow of a battle than Rikku. The only question is: why does making Thief abilities have to be so difficult?
Stats
Level
HP
Attack
Defense
Magic
Resistance
Mind
Accuracy
Evasion
Speed
1
199
10
8
7
8
8
20
26
111
10
775
25
20
17
19
19
20
26
119
20
1,416
43
33
28
32
32
21
27
127
30
2,057
60
46
40
45
45
21
28
134
40
2,698
78
60
51
58
58
22
28
141
50
3,338
95
73
63
71
71
22
29
148
60
3,979
112
86
75
84
84
23
29
155
65
4,380
130
93
80
90
90
23
30
164
Rank

Max: 5

3
3
2
1
2
2
3
3
5
Abilities
Rikku can use Support abilities up to rarity rank 3, Celerity abilities up to rarity rank 5, Thief abilities up to rarity rank 5, Bard abilities up to rarity rank 4, and Dancer abilities up to rarity rank 3.
Her default Soul Break is Grenade which at the expense of one Soul Gauge segment deals physical damage to all targets. The fist Buster Claw (X) allows Rikku to use Hazardous Shell which at the expense of one Soul Gauge segment deals physical damage to all targets with a moderate chance to Sap them. The shield Guardian Targe (X) allows Rikku to use Hyper NulAll which at the expense of one Soul Gauge segment temporarily raises the party's Attack and Resistance.
Equipment
Rikku can equip the following weapon types: daggers, fists, and thrown. The fist Buster Claw (X) allows Rikku to use Hazardous Shell.
She can equip the following armor types: shields, hats, light armor, robes, and bracers. The shield Guardian Targe (X) allows Rikku to use Hyper NulAll.
She can equip accessories.
Rikku appears represented by Wind-elemental cards. She is depicted in her promotional poster art and official artwork from both Final Fantasy X and Final Fantasy X-2, as well as her renders from the latter, and her Theatrhythm Final Fantasy Curtain Call artwork.
Rikku appears on a Triple Triad card.

Non-Final Fantasy guest appearancesEdit
Rikku was originally going to be featured in Kingdom Hearts at Traverse Town along with Aerith, Leon and Cid but due to the similarities in her name and a new character named Riku, Yuffie took her place. As such, Yuffie's appearance has some leftover elements from Rikku's design.
Rikku appears in Kingdom Hearts II alongside her fellow Gullwings Yuna and Paine wearing a slightly modified version of her Final Fantasy X-2 costume. The Gullwings are diminutive in stature and depicted as pixies. Rikku, Yuna and Paine are allied with Maleficent and spy on Sora, but are not loyal to her; Rikku calls her "pret-ty lame", and they seem out of the loop regarding her plans.
After Donald mentions Leon has treasure, the Gullwings change sides and help Leon defend Hollow Bastion. They later confront Sora and company in his lie, but having been told of his battle with Organization XIII, they let it slide and give him the Gullwing Keychain for his Keyblade. They do not seem to be as powerful as they are in Final Fantasy X-2, as it takes all three of them to defeat one Heartless that would otherwise be easily defeated by Sora.
Rikku makes an appearance in Kingdom Hearts χ [chi] as one of the obtainable character cards.
Rikku appears, in her Final Fantasy X-2 attire, as a playable character in this special edition of the Monopoly-like video game available only in Japan alongside Yuna and Paine.
In popular culture
Edit
For more information, see Dead Fantasy Wiki: Rikku.
Rikku appears in the fan-made Dead Fantasy short films by Monty Oum in her Final Fantasy X-2 attire, along with Yuna, Rinoa, Kairi, Tifa, Cloud, and Dead or Alive characters. Monty had stated Rikku would be going through multiple dressphere changes in her battle against her main enemy, Ayane.
Throughout Dead Fantasy and Dead Fantasy II Rikku aids her cousin Yuna to fight the ninja half-siblings, Kasumi and Ayane, soon aided by Hitomi to fight them in a handicap. Rikku tries to sphere change during Dead Fantasy II, but is interrupted. Rikku is mostly seen fighting Ayane and being aided by Kairi. Rikku eventually knocks Ayane to one of the conjure portals that Rinoa had created. In both previews of Dead Fantasy VI, Rikku and Ayane clash weapons before she sphere changes multiple times in an underground cavern. Later, she uses her special dressphere, the Machina Maw, against Ayane. Rikku's fighting style is based on Capoeira with added agility and proficiency with dual daggers. Her grunts are from Xianghua from Soul Calibur, voiced by Aya Hisakawa.
Rikku also appears in the Dead Fantasy - Gee music video in her Final Fantasy X attire. She plays the role of Lee Soonkyu, also known as "Sunny", one of the members of Girls Generation.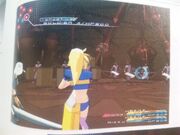 Rikku makes a reference to the Metal Gear Solid series by shouting, "Snake! Snake?! Snaaaaaaake!!!" (some variation of this is generally said by other characters whenever Snake dies) when the party comes across Bandoleer-type enemies such as the Recoil.
Rikku has three different phobias throughout the two games: She has a fear of thunder (although she gets over it by camping in the Thunder Plains), needles, and snakes.

Despite being astraphobic (fear of thunder), Rikku does not take additional damage or run away when hit by a lightning attack. In Final Fantasy X she is the most audibly hurt when she gets hit by it, resulting in a yelp. In Final Fantasy X-2, Rikku no longer squeals when hit by a lightning-elemental spell, as she overcame her fear.
During the events of Final Fantasy X, she never demonstrates fear of snakes.

Rikku's Sphere Grid crosses into Lulu's. This could be a reference to when the party is under Lake Macalania and Rikku expresses her wish to be more like Lulu. While the party travels through the Thunder Plains, Lulu advises Rikku to learn some spells to help her overcome her fear of lightning.
In 2005, Rikku won the award for "Hottest Character" in G4's 2004 G-Phoria awards show. Also in 2005, Rikku won the "Viewers' Choice: Baddest Good Girl" on G4's Video Game Vixens.
Rikku was used in the production of Final Fantasy XIII to stand in for characters who hadn't been finished yet.
One of Rikku's battle quotes, "Booyaka!", is the catchphrase of Selphie Tilmitt from Final Fantasy VIII.
In Rikku's Final Fantasy X-2 promotional poster, the words "Under Another Sky" are written in Al Bhed script albeit the 'H' is missing from the word 'Another'. It is written in English, rather than Al Bhed.
External links
Edit
References
Edit