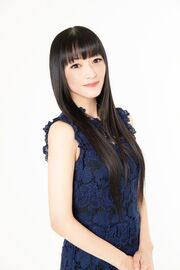 Rie Tanaka (田中 理恵, Tanaka Rie?), born January 3, 1979, in Sapporo, Hokkaidō, Japan, is a Japanese singer and voice actress. She voices Emina Hanaharu in Final Fantasy Type-0 and several characters in Final Fantasy XIV.
Background
Edit
She is best known for providing voice for Virgo Zodiarts and Reina in Kamen Rider series, Lacus Clyne in Gundam Seed, Morrigan Aensland in Marvel vs. Capcom 3, Ciel in Mega Man Zero, Neptune in Hyperdimension Neptunia series, Mitsuru Kirijō in Shin Megami Tensei series, and Suigintou in Rozen Maiden. In addition to voicing the character of Karen Erra, she was an avid player and fan of the MMO Action RPG Phantasy Star Universe.
References
Edit
External links
Edit
Ad blocker interference detected!
Wikia is a free-to-use site that makes money from advertising. We have a modified experience for viewers using ad blockers

Wikia is not accessible if you've made further modifications. Remove the custom ad blocker rule(s) and the page will load as expected.