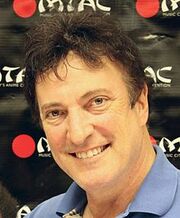 Richard Epcar (born April 29th, 1955) is an American actor and voice actor. He is the voice of Gaius van Baelsar and Ilberd in Final Fantasy XIV, and Argent Heinkel in Bravely Default and Bravely Second: End Layer.
Related games
Edit
Background
Edit
Outside of the series, Epcar is best known for his roles as Batou in Ghost in the Shell and Joseph Joestar in Jojo's Bizarre Adventure: Stardust Crusaders. He is also the voice of Cyrus Temple in Saints Row IV and Dong Zhuo in the Dynasty Warriors series.
External links
Edit
Ad blocker interference detected!
Wikia is a free-to-use site that makes money from advertising. We have a modified experience for viewers using ad blockers

Wikia is not accessible if you've made further modifications. Remove the custom ad blocker rule(s) and the page will load as expected.