Final Fantasy X-2 Enemy
Rhyos
ゴキマイラ (Gōkimaira)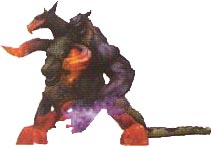 Chimera
Statistics
Level
HP
MP
21
4,360
485
Strength
Magic
Defense
37
46
45
M. Defense
Agility
Accuracy
50
93
4
Evasion
Luck
0
0
EXP
AP
Gil
650
1
310
Location
Thunder Plains
Lake Macalania
Cavern of the Stolen Fayth
Floating Ruins
Via Infinito Floors 41 - 43
Chapters
3, 5
Common Steal
Lightning Gem
Rare Steal
Lightning Gleam
Gil Steal
558
Common Drop
Lightning Gem
Rare Drop
Watery Gleam
Common Bribe
Electrocutioner
Rare Bribe
Electrocutioner
Abilities
Aqua Breath, Chaos Flame, Thundaga
Blue Bullet
None
Status Resist
Petrification (60), Confuse(60), Eject (24), Zantetsu (8)
Status Immunity
Death, Sleep, Silence, Darkness, Poison, Curse, Stop, Doom, Multiple Damage
Other Information
N/A
Rhyos
ゴキマイラ (Gōkimaira)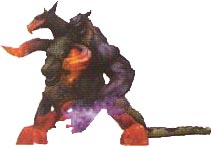 Chimera
Statistics
Level
HP
MP
34
14,440
485
Strength
Magic
Defense
38
48
46
M. Defense
Agility
Accuracy
50
108
5
Evasion
Luck
0
0
EXP
AP
Gil
1,000
2
550
Location
Thunder Plains
Lake Macalania
Cavern of the Stolen Fayth
Floating Ruins
Via Infinito Floors 41 - 43
Chapters
3, 5
Common Steal
Lightning Gleam
Rare Steal
Lightning Gleam
Gil Steal
1,305
Common Drop
NulTide Ring
Rare Drop
NulTide Ring
Common Bribe
Tetra Gloves x2
Rare Bribe
Tetra Gloves x3
Abilities
Aqua Breath, Berserk, Brute Force, Chaos Flame, Thundaga
Blue Bullet
None
Status Resist
Petrification (60), Eject (30), Zantetsu (12)
Status Immunity
Death, Sleep, Silence, Darkness, Poison, Confusion, Curse, Stop, Doom, Multiple Damage
Other Information
N/A
Normal: "A hodgepodge of various fiends with an impressive array of abilities. It cycles through attacks corresponding to each of the four primary elements. Not too shabby."
Oversoul: "A hodgepodge of various fiends. It uses all sorts of attacks, but when its HP gets low it loses those abilities. Seriously borked."
— Scan
The Rhyos is an enemy in Final Fantasy X-2. They are semi-powerful and should be dealt with first before any other enemies. Using strong attacks is preferred, as is setting up Protect and Shell to reduce the damage they can do.
In the Fiend Tale endings, one notable Rhyos was created from the spirit of a Bevellian inventor who played a role in the development of Yevon's machina and the shoopuf saddle. However, the genius inventor was killed by one of his own creations and was reborn a fiend who now creates machina to solely benefit others.
Related enemies
Edit
Ad blocker interference detected!
Wikia is a free-to-use site that makes money from advertising. We have a modified experience for viewers using ad blockers

Wikia is not accessible if you've made further modifications. Remove the custom ad blocker rule(s) and the page will load as expected.