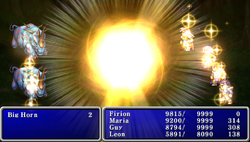 White magic of the highest order. Bestows well being upon all.
—Description
Revive (リバイヴ, Ribaivu?, lit. Revive) is a spell found in the PlayStation Portable and mobile versions of Final Fantasy II. It is obtained by giving the Light of Hope to Deumion, and restores all party members' and enemies' to full HP/MP.
Ad blocker interference detected!
Wikia is a free-to-use site that makes money from advertising. We have a modified experience for viewers using ad blockers

Wikia is not accessible if you've made further modifications. Remove the custom ad blocker rule(s) and the page will load as expected.