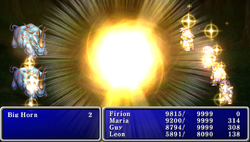 White magic of the highest order. Bestows well being upon all.
—Description
Revive (リバイヴ, Ribaivu?) is a recurring ability in the series.
Appearances
Edit
II Revive is a spell found in the PlayStation Portable and mobile versions, obtained by giving the Light of Hope to Deumion, and restores all party members' and enemies' to full HP/MP.

This article or section is a stub about an ability in Final Fantasy Record Keeper. You can help the Final Fantasy Wiki by expanding it.
Ad blocker interference detected!
Wikia is a free-to-use site that makes money from advertising. We have a modified experience for viewers using ad blockers

Wikia is not accessible if you've made further modifications. Remove the custom ad blocker rule(s) and the page will load as expected.