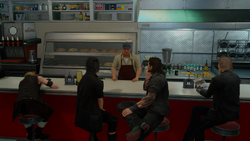 Restaurants are locations in Final Fantasy XV. The player can visit to talk to the local tipster, eat food for buffs, and to take on and hand in hunts. Crow's Nest is a fast food chain with restaurants at various outposts with the same menu items, but the restaurants usually vary in menu and price.
Talking to the tipster can reveal markers on the map for new outposts, parking spots, havens, procurement points for minerals and food ingredients, treasures, quest locations and fishing spots.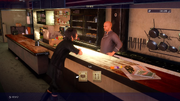 The player can choose food to eat from the menu. Different dishes vary in pricing and in the buffs they yield. Positive statuses from food are persistent over time and are displayed in blue at the bottom center of the screen with a meter showing how much time is left. They affect the whole party, including guest members but excluding chocobos, who can only be fed at camp. Restaurant meals' effects last a fixed 24 in-game hours.
Some restaurants get new menu items as a result of the player completing quests. Ignis sometimes learns new recipes for eating new food at a restaurant.

Each restaurant has a number of hunts the player can undertake—quests to fell certain enemies at a certain location, usually somewhere near the tipster's location. Completed hunts can be turned in to any tipster, even to restaurants that don't have the hunt option. Hunts can be re-done. Hunts are ranked, and the player cannot take on hunts that are higher level than their hunter rank.
List of restaurants
Edit
Restaurant
Location
Menu
Hunts

Takka's Pit Stop

Hammerhead

Crow's Nest Diner

Longwythe Rest Area

Mother of Pearl

Galdin Quay

Crow's Nest Diner

Coernix Station - Alstor

Cafe Claire

Wiz Chocobo Post

Surgate's Beanmine

Lestallum

Tostwell Grill

Lestallum

Tozus Counter

Lestallum

Crow's Nest Diner

Cauthess Rest Area

Crow's Nest Diner

Taelpar Rest Area

The Original Crow's Nest Diner

Old Lestallum

Portuttle Hut

Meldacio Hunter HQ

Erupto Eats

Verinas Mart - Ravatogh

Maagho

Altissia

Dining Car

Train for Gralea

Square Enix Café

(DLC)

Moogle Chocobo Carnival
Assassin's Festival

Kupoberry Cheesecake
Golden Chocobo Tart
Semur Skewers
List of meals
Edit
Name
Effects
Price
Recipe obtained
Restaurants
Chili con Carne

Attack Boost (Level 2): Strength +20
HP Boost (Level 1): Max HP +50
50
Burly Bean Bowl
Takka's Pit Stop (Hammerhead)
Patch notes: Pre-v1.2: No recipe from eating.
Leiden Jambalaya
(

Jambalaya

)

Attack Boost (Level 15): Strength +150
HP Boost (Level 4): Max HP +200
Regen Boost (Level 1): HP Recovery Rate +25%
700
—
Takka's Pit Stop (Hammerhead)
Patch notes: Pre-v1.2 Price: 750
Hammerhead Hot Sandwich
(

Hammerhead Sandwich

)

Attack Boost (Level 8): Strength +80
HP Boost (Level 4): Max HP +200
150
Grease Monkey's Schnitzel Sandwich
Takka's Pit Stop (Hammerhead); Complete Takka's sidequest: Hunters and Gatherers
Patch notes: Pre-v1.2 Price: 200
Sizzling Humongo-Steak
(

Jumbo Steak

)

HP Boost (Level 20): Max HP +1000
Endurance: Sprinting does not reduce stamina
2600
Thick 'n' Juicy Steak
Takka's Pit Stop (Hammerhead); Complete Takka's sidequest: A Meat Most Magnificent
Patch notes: Pre-v1.2 Price: 3500
Jetty's

Poisonproof: Immune to Poison
Toadproof: Immune to Toad
50
—
Various Crow's Nest Diners
Kenny's Fries

HP Boost (Level 6): Max HP +300
150
Dish and Chips
Various Crow's Nest Diners
Patch notes: Pre-v1.2: No recipe from eating.
Kenny's Salmon

Attack Boost (Level 15): Strength +150
Defense Boost (Level 20): Vitality +200
1400
Kenny's Original Recipe
Various Crow's Nest Diners
Patch notes: Pre-v1.2: No recipe from eating, price: 1480.
Kenny's "Special" Salmon
(

Kenny's Special Salmon

)

Attack Boost (Level 40): Strength +400
Magic Boost (Level 30): Magic +300
Defense Boost (Level 30): Vitality +300
7200
Kenny's Secret Recipe
The Original Crow's Nest Diner (Old Lestallum)
Patch notes: Pre-v1.2: No recipe from eating, price: 9800.
Galdin Gratin

HP Boost (Level 10): Max HP +500
Fresh: Strength +50, Magic +50, EXP +10%
4500
—
Mother of Pearl (Galdin Quay)
Patch notes: Pre-v1.2 Price: 8900
White Fish in Tomato Sauce
(

Stewed White Fish in Tomato Sauce

)

Attack Boost (Level 16): Strength +160
HP Boost (Level 18): Max HP +900
Poisonproof: Immune to Poison
2000
—
Mother of Pearl (Galdin Quay)
Patch notes: Pre-v1.2 Price: 2800
Sea's Bounty Risotto

Attack Boost (Level 12): Strength +120
HP Boost (Level 12): Max HP +600
Regen Boost (Level 1): HP Recovery Rate +25%
1300
Fisherman's Favorite Paella
Mother of Pearl (Galdin Quay)
Patch notes: Pre-v1.2 Price: 1800
Steamed Crab with Rock Salt

Resistant: Immune to Fire, Ice, and Lightning elemental damage
3200
—
Mother of Pearl (Galdin Quay)
Patch notes: Pre-v1.2 Price: 7200
Tenebraen Berry Opera
(

Ulwaat Opera

)

Magemaster: Magic +500, Strength becomes 0
12000
Memory Lane Pastry
Mother of Pearl (Galdin Quay); Complete Coctura's sidequest: Berried Memories
Patch notes: Pre-v1.2 Price: 17500
Gysahl Chips

HP Boost (Level 8): Max HP +400
380
—
Wiz Chocobo Post
Patch notes: Pre-v1.2 Price: 480
Green Smoothie

Flameproof (Level 9): Fire Resistance +90%
Frostproof (Level 9): Ice Resistance +90%
Stormproof (Level 9): Lightning Resistance +90%
120
—
Wiz Chocobo Post
Patch notes: Pre-v1.2 Price: 160
Chocobo Club Sandwich

Attack Boost (Level 8): Strength +80
HP Boost (Level 8): Max HP +400
Toadproof: Immune to Toad
800
—
Wiz Chocobo Post
Patch notes: Pre-v1.2 Price: 980
Fat Chocobo Triple-Decker
(

Fat Chocobo Burger

)

HP Boost (Level 8): Max HP +400
EXP Boost (Level 5): EXP +50%
1100
Stacked Ham Sandwich
Wiz Chocobo Post; Complete Wiz's sidequest: A Feathery Feast
Patch notes: Pre-v1.2 Price: 1200
Peanut Sauce Skewers
(

Nut Sauce Yakitori

)

Attack Boost (Level 12): Strength +120
HP Boost (Level 8): Max HP +400
600
—
Lestallum, Surgate's Beanmine
Patch notes: Pre-v1.2 Price: 760
Soup & Bread

Attack Boost (Level 15): Strength +150
Regen Boost (Level 4): HP Recovery Rate +100%
850
—
Lestallum, Surgate's Beanmine
Patch notes: Pre-v1.2 Price: 1100
Bird-Broth Rice with Curry
(

Chicken with Rice

)

Attack Boost (Level 8): Strength +80
HP Boost (Level 5): Max HP +250
Regen Boost (Level 1): HP Recovery Rate +25%
480
Peppery Daggerquill Rice
Lestallum, Surgate's Beanmine
Patch notes: Pre-v1.2 Price: 620
Offal Stew

Magic Boost (Level 20): Magic +200
Regen Boost (Level 3): HP Recovery Rate +75%
1350
Lestallum Stewed Tripe
Lestallum Market, Tostwell Grill
Patch notes: Pre-v1.2 Price: 1800
Spicy Skewers
(

Grilled Spicy Skewers

)

Attack Boost (Level 35): Strength +350
HP Boost (Level 20): Max HP +1000
Equalizer: +2% damage per level for level difference between attacker and higher-level target
7200
Seasoned Midgardsormr
Lestallum Market, Tostwell Grill
Patch notes: Pre-v1.2 Price: 9800
Roti and Curry Plate
(

Table Buns

)

Attack Boost (Level 12): Strength +120
Magic Boost (Level 10): Magic +100
HP Boost (Level 4): Max HP +200
1200
—
Lestallum Market, Tozus Counter
Patch notes: Pre-v1.2 Price: 1600
Soul Soup
(

Kokkuri Soup

)

Attack Boost (Level 12): Strength +120
Spirit Boost (Level 20): Spirit +200
Flameproof (Level 7): Fire Resistance +70%
960
—
Lestallum Market, Tozus Counter
Patch notes: Pre-v1.2 Price: 1280
Big Bread Buns
(

Magnum Table Buns

)

HP Boost (Level 12): Max HP +600
Regen Boost (Level 2): HP Recovery Rate +50%
1100
—
Lestallum Market, Tozus Counter
Patch notes: Pre-v1.2 Price: 1480
Meat & Onion Skewers
(

Barbecue Roti

)

Attack Boost (Level 20): Strength +200
HP Boost (Level 16): Max HP +800
2000
Hunters' Krazy Kebabs
Meldacio Hunter HQ
Patch notes: Pre-v1.2 Price: 2850
Mama Ezma's Meat Pie
(

Ezma Pie

)

Attack Boost (Level 15): Strength +150
Magic Boost (Level 15): Magic +150
HP Boost (Level 10): Max HP +500
1500
Meldacio Meat Pie
Meldacio Hunter HQ
Patch notes: Pre-v1.2 Price: 1980
Hunters' Ragout
(

Meldacio Ragout

)

Attack Boost (Level 40): Strength +400
HP Boost (Level 40): Max HP +2000
3000
King's Stew
Meldacio Hunter HQ
Patch notes: Pre-v1.2 Price: 4200
Verinas Spuds
(

Verinas Potato

)

HP Boost (Level 6): Max HP +300
150
—
Verinas Mart - Ravatogh
Tender Bird Fritters
(

Deep Fried Chicken

)

Attack Boost (Level 12): Strength +120
HP Boost (Level 8): Max HP +400
Flameproof (Level 5): Fire Resistance +50%
980
—
Verinas Mart - Ravatogh
Smoked Dualhorn Shank
(

Smoked Behemoth Shank

)

Attack Boost (Level 40): Strength +400
HP Boost (Level 20): Max HP +1000
Endurance: Sprinting does not reduce stamina
4800
Smoked Behemoth
Verinas Mart - Ravatogh
Patch notes: Pre-v1.2 Price: 6800
Fettini di Cernia

Attack Boost (Level 30): Strength +300
HP Boost (Level 20): Max HP +1000
Death-Defying: Immune to Instant Death
3600
Tide Grouper Carpaccio
Maagho
Patch notes: Pre-v1.2 Price: 4800
Maagho Lasagna

HP Boost (Level 80): Max HP +4000
EXP Boost (Level 10): EXP +100%
Resistant: Immune to Fire, Ice, and Lightning elemental damage
8000
—
Maagho
Patch notes: Pre-v1.2 Price: 80000, originally unlocked Lasanga Al Forno when eaten
Fine Caviar Canapé
(

Luxurious Caviar Canapé

)

Prime: Strength +75, Magic +75, EXP +50%
300000
Royal Banquet Canapé
Maagho
Wood-Smoked Fish
(

Fish Fumet

)

HP Boost (Level 30): Max HP +1500
Frostproof (Level 5): Ice Resistance +50%
Toadproof: Immune to Toad
2800
Sea Bass Sauté
Maagho
Patch notes: Pre-v1.2 Price: 3800
Set Dinner Course
(

Dinner Plate

)

HP Boost (Level 10): Max HP +500
500
—
Train Restaurant