Rest
Talk

0
13,959 pages on
this wiki
Final Fantasy VI Enemy
Sleep
ねむり (Nemuri)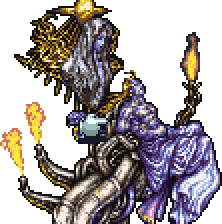 Statistics
Level
HP
MP
71
40,000
10,000
Battle Power
Magic Power
63
6
Defense
M. Defense
MBlock
120
130
0
Speed
Hit Rate
Evade
46
100
0
EXP
Gil
0
0
| | |
| --- | --- |
| Location | Kefka's Tower |
| Common Steal | Atma Weapon |
| Rare Steal | None |
| Item Dropped | None |
| Morph | Antidote, Green Cherry, Eye Drop, Soft |
| Morph Miss Rate | 100% |
| Battle | Ice Rod |
| Abilities | Calmness |
| Rage | None |
| Sketch | Battle, Calmness |
| Control | Battle, Calmness |
| Status Immunity | Blind, Zombie, Poison, MagiTek, Clear, Imp, Petrify, Instant Death, Condemned, Near Fatal, Image, Mute, Berserk, Muddle, Seizure, Sleep, Slow, Haste, Stop, Shell, Safe |
| Other Information | Auto-Float; Human opponent; Can't Libra; Can't Meteor Strike; Can't Sketch; Can't Control; The party cannot escape. |
Sleep
ねむり (Nemuri)
Statistics
Level
HP
MP
71
40,000
10,000
Battle Power
Magic Power
63
6
Defense
M. Defense
MBlock
120
130
0
Speed
Hit Rate
Evade
46
100
0
EXP
Gil
0
0
| | |
| --- | --- |
| Location | Kefka's Tower |
| Common Steal | Atma Weapon |
| Rare Steal | None |
| Item Dropped | None |
| Morph | Antidote, Green Cherry, Eye Drop, Soft |
| Morph Miss Rate | 100% |
| Battle | Ice Rod |
| Abilities | Calmness |
| Rage | None |
| Sketch | Battle, Calmness |
| Control | Battle, Calmness |
| Status Immunity | Blind, Zombie, Poison, MagiTek, Clear, Imp, Petrify, Instant Death, Condemned, Near Fatal, Image, Mute, Berserk, Muddle, Seizure, Sleep, Slow, Haste, Stop, Shell, Safe |
| Other Information | Auto-Float; Human opponent; Can't Libra; Can't Meteor Strike; Can't Sketch; Can't Control; The party cannot escape. |
Rest
ねむり (Nemuri)
Statistics
Level
HP
MP
71
40,000
10,000
Attack
Magic
63
6
Defense
Magic Defense
Magic Evasion
120
130
0
Speed
Hit Rate
Evasion
46
100
0
EXP
Gil
0
0
| | |
| --- | --- |
| Location | Kefka's Tower |
| Common Steal | Ultima Weapon |
| Rare Steal | None |
| Item Dropped | None |
| Morph | Antidote, Green Cherry, Eyedrops, Gold Needle |
| Morph Miss Rate | 100% |
| Attack | Ice Rod |
| Abilities | Repose |
| Rage | None |
| Sketch | Battle, Repose |
| Control | Battle, Repose |
| Status Immunity | Blind, Zombie, Poison, Magitek, Invisible, Imp, Petrify, Death, Doom, Critical, Image, Silence, Berserk, Confuse, Sap, Sleep, Slow, Haste, Stop, Shell, Protect |
| Other Information | Auto-Float; Human opponent; Can't Libra; Can't Meteor Strike; Can't Sketch; Can't Control; The party cannot escape. |
"As a greeting, expect Melton and W Wind. Also uses Drain and Meteo. Upon dying, uses Calmness to Wound target character, so prepare with Life 3."
—Final Fantasy VI Playstation One Bestiary entry
Rest, also known as Sleep, is a boss in Final Fantasy VI. It is fought in the third tier of the final battle along with Lady.
Rest only casts spells that inflict damage to everyone in battle so Lady will be fully healed each time it attacks. This ensures that when Lady uses White Wind, Rest will be healed as well. Rest uses Tornado or Meltdown on its first turn, and Doom on its second turn. When its HP falls below 10,240, Rest will begin using Meteor every turn, and counters attacks with either Meteor or Trine, an attack the player likely hasn't seen before that inflicts Silence and Blind on the party. The player must use Remedies to heal themselves. When Rest dies it uses Repose twice, which inflicts Instant Death and ignores immunity. Fenrir can help get around this, since Blink will block Repose.
The party can steal a second Ultima Weapon from Rest. If the player is playing the Advance port, this is highly recommended as two Ultima Weapons are a powerful combination in Dragons' Den.
AI Script
Edit
Attack Turns:
1st Turn: Tornado (33%) or Meltdown (33%) or Nothing (33%)
2nd Turn: Attack (66%) or Doom (33%)
If HP <= 10240: Meteor (100%)
If killed: Repose (100%)
Repose (33%)
If HP <= 10240:
If attacked by anything: Meteor (33%) or Trine (33%)
Rest, alongside Lady, are an allusion to the Pietà, a sculpture in the Vatican depicting the recently deceased Jesus Christ post-crucifixion being cradled by his mother, the Virgin Mary.
Tetsuya Nomura's concept art of the tower of gods provides more clarity to Rest's identity. The blonde hair, scarf, and pale purple skin tone is relative to Kefka's God like final form, placing Kefka as Rest in the final phase of ascension to God. In addition to coinciding to Dante Aligheri's Divine Comedy, the tier depicts Kefka's complex process of draining the Warring Triad's power with Kefka alongside the goddess and above Doom/Fiend & Poltergeist/Demon final forms.
Related Enemies
Edit