Reraise (ability)
19,931 pages on
this wiki
Talk

38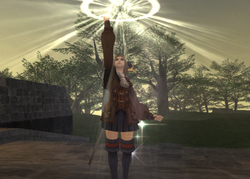 Salvation promised...
—Yuna, Final Fantasy X
Reraise (リレイズ, Rireizu?), also known as Life 3 or Auto-Life (おまじない, Omajinai?), is a recurring White Magic spell from the Final Fantasy series. It bestows the status of the same name that automatically revives an ally the next time he or she is knocked out.
Appearances
Edit
Some enemies can use the ability called Reraise, but it essentially works like a normal Raise spell, and revives the caster's allies. It is used by Amoeba and Cindy. The Augment ability Phoenix also works as an Auto-Life ability.
This article or section is a stub about an ability in Final Fantasy IV: The After Years. You can help the Final Fantasy Wiki by expanding it.
Automatically revives the target the next time he or she is KO'd.
—Description
Reraise, also known as Life 3, is a Healing spell that revives a character when KO'd. The character is brought back with minimal HP leaving the player to attempt Desperation Attacks or heal immediately. The Phoenix magicite teaches this spell at a rate of x1.
Additionally, Gau and Gogo can cast the Reraise spell by using the Destroyer Rage. It costs 50 MP to cast and is vulnerable to Runic. Reraise can be cast by Level 80 Magic, Level 90 Magic, Cherry, Magic, and Destroyer.
Casts Life when KO'd.
—Description
Quina can learn the Blue Magic spell Auto-Life by eating either Carrion Worm, Gimme Cat, Cerberus, Yan, or Stilva. It costs 14 MP to use. Amarant's Aura ability also bestows the status along with Regen.
Auto-Life is also a support ability that takes 12 Magic Stones to equip and is learned from Rebirth Ring. Curiously, the Reraise support ability will revive Zombie characters, whereas every other revival method will fail.
Auto-Life is a spell obtained on Yuna's section of the Sphere Grid—it is located right next to the beginning of the path, but one needs a Lv. 4 and a Lv. 1 Key Sphere to reach it. It is also found on Rikku's path on the expert Sphere Grid. Like previous Final Fantasy games, the character is resurrected after KO with minimal HP. The spell cannot be reflected. It costs 97 MP to cast.
The amount of HP recovery from KO can be boosted by the ability Magic Booster on the caster's weapon.
Cindy of the Magus Sisters can also cast the spell, when being summoned by Yuna.
It is also cast on the whole party by Rikku's mix Hyper Mighty G.
Auto-Life can only be obtained by equipping either the Salvation Promised or Supreme Light Garment Grids and spherechanging through the colored gates. It costs 99 MP to cast via the Garment Grids. Auto-Life is also available from the Lady Luck's Magic Reels, in which gaining three staves will cast Auto-Life on a random ally. Auto-Life can be reflected.
Reraise is a White Magic spell that grants the caster the effect of Reraise I for one hour. During this time, if a character is killed, he will have an option to Raise without having another player cast it on the KO'd player. The player does not have to instantly accept it in the case that it would be dangerous to be raised in the current position.
Scholars are only able to cast this spell under the effects of Addendum: White or Enlightenment, or with a White Mage subjob of level 25 or higher.
The Sentinel's Reprieve ability works similarly to Reraise, allowing the character to stay alive at 1 HP after sustaining an attack that should have killed them. It doesn't work against Instant Death, or if the character is already in HP Critical health. Everyone but Sazh learns it as part of their Crystarium.
There were two spells with this effect: Reraise for Conjurers, and Soul Ward for Thaumaturges.
White Magick that endows a unit with a protective force that will revive him or her only once after being KO'd.
—Description
Inject life's energy! Reraise!
The Reraise spell revives the knocked out character to a critical amount of HP once their CT reaches 100, which means the character will not revive instantly, but will rise before being crystallized or turned into an item. It costs 16 MP to use, has a speed of 15, and cost 100 JP to learn for the White Mage.
Auto-Life is the White Mage spell that causes the status Auto-Raise, shown by an angel appearing above the character's head. It costs 16 MP to cast, is Holy elemental, and has a range of 4. It is stealable through the ability Steal: Ability.

This article or section is a stub about a spell in Final Fantasy Tactics Advance. You can help the Final Fantasy Wiki by expanding it.
Reraise is a White Magick that grants the status Auto-Life to a character for a hefty 28 MP. It is learned through the Cheer Staff and is mastered for 400 AP.
Dragonheart is a Reaction Ability learnable by Dragoons which grants them Auto-Life when physically damaged. It is learned from the Vitanova and is mastered for 500 AP.
The Angel Ring is an accessory that passively grants Auto-Life to the wearer.
Reraise and Reraise II are Special Magic spells that grant the Reraise status to the caster, the latter granting the status to all living party members. They persist indefinitely until a mission ends or the effect is used.
Undying Wish is an ability used by Rem which grants the Reraise status on the party for ten seconds.
Reraise is a level 6 Time Magic spell which grants reraise status. It costs 80 MP.

This article or section is a stub about a spell in Bravely Default. You can help the Final Fantasy Wiki by expanding it.
This article or section is a stub about an ability in Bravely Second: End Layer. You can help the Final Fantasy Wiki by expanding it.
Amongst the enemy abilities in the data is an ability called Reraise in Japanese, though its name was not translated for any other languages. The ability is not used by any enemy and whether it is working ability is unknown.
This article or section is a stub about an ability in Final Fantasy Artniks. You can help the Final Fantasy Wiki by expanding it.
Reraise is a 6 star ability that "if target is KO'd, revive them and restore a massive amount of HP." 80% of the target's HP is restored upon death. The ability can be obtained by completing the appropriate "Nightmare Dungeon" which opens up once a month. Additional 5 and 6 star gems are also required to craft the reraise ability.
Gives allies within range of you the power to auto-revive once.
—Description.

This article or section is a stub about a spell in Final Fantasy Explorers. You can help the Final Fantasy Wiki by expanding it.
The Magus Sisters card can use ReRaise. For the discard of another Magus Sisters card, Reraise returns the Magus Sisters if they are moved to the Break Zone that turn.
Non-Final Fantasy AppearancesEdit
Auto-Life instantly raises the user with some of their HP when they are defeated. It is the ability of the Vexen card in Chain of Memories and Re:Chain of Memories, a panel ability in 358/2 Days, one of two abilities attached to the Aqua D-Link in Birth By Sleep, and an ability attached to the Oathkeeper Keyblade in Re:coded. In 358/2 Days, the player can boost the amount of HP restored by Auto-Life by attaching Auto-Life+ panels. It also appears in Dream Drop Distance as a Support ability for Spirits. When used by a Spirit it fully restores Sora/Riku's HP.

This gallery is incomplete and requires Final Fantasy XIV added. You can help the Final Fantasy Wiki by uploading images.