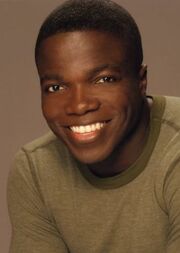 Reno Wilson (born Jan 20, 1969) is an American actor and voice actor. He voices Sazh Katzroy in the Lightning Saga.
Background
Edit
He is known for voicing several characters from Michael Bay's Transformer series like Frenzy from Transformer (2007), Mudflap from Transformers: Revenge of the Fallen, Brains from Transformers: Dark of the Moon and Age of Extinction.
Ad blocker interference detected!
Wikia is a free-to-use site that makes money from advertising. We have a modified experience for viewers using ad blockers

Wikia is not accessible if you've made further modifications. Remove the custom ad blocker rule(s) and the page will load as expected.