Reno
18,963 pages on
this wiki
Talk

19
Reno is a prominent member of the Turks who appears in the Compilation of Final Fantasy VII, and is often accompanied by fellow Turk, Rude. In battle, he wields an Electro-Mag Rod, a nightstick with a taser on one end. Reno also has a penchant for gossiping and is a competent helicopter pilot.
Appearance
Edit
Reno has a lanky physique, blue eyes, unkempt red hair terminating in a long ponytail (though the ponytail is absent during Before Crisis and the first half of Crisis Core), and two symmetrical red marks on his cheekbones. He wears goggles pushed up onto his forehead, an unbuttoned suit jacket, and an untucked dress shirt.
Personality
Edit
Reno is cocky, cynical, somewhat lazy, and can be friendly. Despite his appearance and attitude, he is regarded as a prominent worker; while second in command, he takes his job with pride and obtains skills that allow him to surpass many of his fellow Turks. He has a rebellious temperament and his actions can be sadistic, contrasting his laid back personality. Reno is left-handed; even if he is occasionally seen holding his weapon in his right hand in promotional images, he only ever uses it left-handed in any media he has been depicted in.
Reno possesses a distinct speech pattern in Japanese, speaking in a drawling, slangy manner and, most notoriously, ending most of his sentences with zo to (ぞ, と), yo to (よ, と), or simply to (と). Tifa receives a phone call near the beginning of Advent Children, and, although the caller's voice is not heard, the audience understands it is from Reno, as Tifa jokingly replies, "Oboeteru, zo to" ("I remember you, yo"; "Yeah, I remember you" in the English dub). The official page for the film also makes a nod to this. Speech patterns such as Reno's are impossible to translate directly into English and can only be approximated by attempting to capture the same "feeling" as the original, which the game's English translation and the movie did not attempt to do.
Reno and Rude primarily serve as the comic relief in Advent Children, exemplified by cartoon violence. Reno's design overhaul for the film eliminates the somewhat sly and shady air he had in the original game. He still acts in a somewhat sly manner, but is far more lighthearted and playful than he was in the game.
Reno can be fought four times during the course of the game. Only two of these fights are set, the others are the player's choice.
In Before Crisis Reno is fought in the Training Mode.

Creation and development
Edit
During production of Advent Children, the film's staff were constantly tweaking Reno's movements and clothing to properly convey his attitude and personality, as he is a more energetic and excitable character compared to the rest of the cast. Tetsuya Nomura had a clear vision of how Reno should sound, and when he explained it to voice director Yoji Shimizu, Shimizu contacted Keiji Fujiwara, who had precisely the voice Nomura wanted. As Fujiwara recorded his lines, his mouth was video taped and superimposed on footage of Reno to make him feel closer to the character. Fujiwara and the film staff both noted there was a lot of pressure to make Reno look and sound good due to his popularity from the original game.
Reno is voiced by Keiji Fujiwara in the Japanese version, with Quinton Flynn in the English version. He also shares his Japanese voice actor with Izana Kunagiri from Final Fantasy Type-0 as well as a currently unnamed red-haired male character from Final Fantasy XV and Ciggma Khint from Bravely Default. Furthermore, he also shares his English voice actor with Isaaru from Final Fantasy X and Axel/Lea from the Kingdom Hearts series.
Other appearances
Edit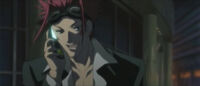 The Last Order -Final Fantasy VII- OVA illustrates the events surrounding Zack Fair and Cloud Strife's escape from Nibelheim's mansion, overlapping with incidents depicted in Final Fantasy VII and Before Crisis -Final Fantasy VII-.
The OVA particularly covers the Turks' role during both the Nibelheim Incident and events leading up to Zack's Final Stand against the Shinra military; addressing the Turks' pursuit of Zack and Cloud through the Mythril Mine and their ill-fated search for the pair in the Midgar wasteland.
Reno will appear in the game and aid Cloud by deploying a bomb, similar to what happened in Final Fantasy VII: Advent Children.[1]
Reno appears as an enemy.

Reno appears as a playable character.
Reno is an ally and a summonable Legend.
Reno is a playable character and a boss in select Final Fantasy VII stages. Reno could be recruited during the Challenge Event Blood Madness as the First Time Reward for completing the event's Winding Tunnel on the Classic difficulty. He was also available in Hidden Resolve, his inclusion there being a reference to the role he played as an ally in the Wutai sidequest; and in A Brewing Nightmare, where his inclusion was opposite that of Vincent, the two being Turks.
Assessment
Reno is a Turk. His combat role is Physical/Magic Hybrid.
Even with fire-beast Red XIII in the mix, the Final Fantasy VII delegation lacked a potent Black Mage. Reno fills this void and has solid Magic scores to justify this role. Though somewhat weak physically, he has a range of weapons and skills that allow him to take advantage of his Speed and catch foes off-balance. Vincent surpasses Reno in terms of magical skill, but Reno has the edge over Vincent in terms of defense.
Stats
Level
HP
Attack
Defense
Magic
Resistance
Mind
Accuracy
Evasion
Speed
1
204
10
9
10
10
6
20
20
102
10
792
25
19
32
24
15
20
20
106
20
1,447
43
31
53
41
25
20
21
112
30
2,101
60
45
71
57
35
21
21
117
40
50
3,410
96
73
107
91
55
22
22
130
60
65
70
80
Rank

Max: 5

3
3
2
4
3
1
3
3
4
Abilities
Reno can use Black Magic spells up to rarity rank 5, Combat abilities up to rarity rank 3, and Celerity abilities up to rarity rank 4.
His default Soul Break is Electrostatic Rod which at the expense of one Soul Gauge segment deals physical lightning damage to one target with a small chance to Stop it. The rod Telescopic Baton (VII) allows Reno to use Turk Light which at the expense of one Soul Gauge segment deals magic lightning damage to all targets, with a moderate chance to Paralyze them.
Upon breaking Reno's initial level cap, he gains the Record Materia Crimson Lockdown, which may convert a user's standard Attack action into a casting of the Stop spell, halting the target
Equipment
Reno can equip the following weapon types: daggers, fists, and rods. The rod Telescopic Baton (VII) allows Reno to use Turk Light.
He can equip the following armor types: hats, light armor, robes, and bracers.
He can equip accessories.
Reno appears on numerous cards which depict him from Final Fantasy VII: Advent Children Complete and Theatrhythm Final Fantasy Curtain Call. His cards are lightning-elemental reflecting his use of electro-rod in battle in Final Fantasy VII.
Reno's name is depicted as "Leno" in few official data books releases, such as Official Establishment File, which include name romanizations.
Reno shares a lot of similarities with the character Axel/Lea of the Kingdom Hearts series. They both have spiky red hair, facial markings, and similar personalities. Both have the same voice actors in the English, French, Spanish, German, and Japanese versions. The similarities are intentional; Tetsuya Nomura has commented that he wanted to experiment by placing a familiar character in a new environment and role.
In Before Crisis, Reno is considered third in ranking in the Turks, Tseng being second, and Veld first. His actual status is unknown, for Rufus's standing within the Turks may not be official. After Veld's leaving, Tseng took up Veld's position as the Turks' leader, bumping Reno up to second-in-command.
Reno is the only minor character from Final Fantasy VII to have a Play Arts figure.
References
Edit