Reddas
Talk

13
16,202 pages on
this wiki
"The illusions of the past. You think to have cast them off, only to find them years later, unwearying, unrelenting. The past can bind a man as surely as irons."
—Reddas
Reddas, real name Foris Zecht, is a guest character in Final Fantasy XII. A pirate of both the land and sky, he is the ruler of Balfonheim, cursed with memories of his terrible actions.
In the English release of Final Fantasy XII, Reddas is voiced by Phil LaMarr, who also voiced Ramza Beoulve in Final Fantasy Tactics: The War of the Lions. He is voiced by Takayuki Sugō in the Japanese release.
Appearance
Edit
"Do not forget Nabudis. That is my only counsel for you."
—Reddas to Ashe.
Reddas is a mature man of 33, with a strong, stocky build. Despite his reasonably young age, he has a white beard, mutton chops, and a bald head. He wears a camel shirt with exposed shoulders, large bell-sleeves and a large collar. Across his shirt he wears a dark leather strapped holster, in which he keeps his weapons, the Chirijiraden and the Ninja Knife. He also wears pink cropped trousers and a silver pendant around his neck. On his feet he wears open-shinned strap boots.
Personality
Edit
Reddas is a man haunted by his past, one that he cannot easily let go. Despite attempts to continue on with his life, Reddas's remorse over his past actions never truly leaves him, despite his change of identity. He proves to be both noble and brave, and ultimately selfless in his sacrifice to save Dalmasca.
Within the Empire
Edit
"A Judge Magister there was... two years past, he took in his hand the Midlight Shard, stolen from Nabradia, and used it not knowing what he did... and Nabudis was blown away. Cid ordered this of him to learn the nethicite's true power. That man swore never to let such terrible power be used again. He forsook his Judicer's plate, and his name."
—Reddas.
Born Foris Zecht, Reddas was a loyal and trusted Judge Magister for the Archadian Empire. The Final Fantasy XII Scenario Ultimania states that he led the 13th Bureau and accompanied Vayne in his command of the 8th Imperial Fleet before Ghis took it over.
During the war with Nabradia Archadian forces were able to obtain a potent heirloom of Dynast King Raithwall known as the Midlight Shard. Judge Zecht traveled to Nabradia and, following the specific instructions of Dr. Cid, unleashed the shard's full power, actually a piece of deifacted nethicite, upon Nabudis, the Nabradian capital. The effect was catastrophic; within moments the entire population of the city was wiped out, the royal palace destroyed and half the region submerged in a thick layer of mist.
Though the Archadian armada moved towards the next battle at Nalbina, Zecht wanted no further part in the war. Consumed with guilt, the Judge Magister left his name and rank in the festering Necrohol and fled. Though not a confirmed casualty, he was soon replaced by Judge Gabranth and remained absent from Imperial records until his vengeful encounter with Dr. Cid at Draklor Laboratory two years later. After Nabudis he took the name of Reddas, and found refuge in the major trade-center and pirate den of Balfonheim and used his natural authority to assume control of the port. Within months he had driven out corruption and was made a patron among pirates.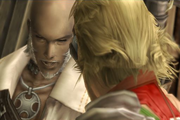 "I, Judge Magister, condemn you to oblivion!"
—Reddas, destroying the Sun-Cryst using the Sword of Kings.
At the request of Marquis Ondore of Bhujerba, Reddas infiltrates Draklor Laboratory in Archades. After stealing details on new projects and Archadian troop movements - and by that, defeating many Imperial Troops - he encounters the player party before confronting Dr Cid.
Mistaking the party as Cid's underlings, Basch deflects Reddas's attack with his bare hands, and, realizing his mistake, Reddas apologizes and tries to cut down Cid, only to be tossed to the side by Venat. After Cid is defeated, Reddas introduces himself to the party, and pledges himself under Ashe's employ.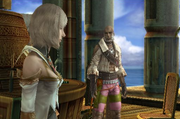 The party return to Balfonheim Port with Reddas to his Manse in Saccio Lane, where they discuss the current political situation, and the possibility of the Resistance going to war against the Empire. Reddas reveals he has spoken to the Marquis concerning this situation before, and expresses his reservations of challenging Vayne when he is wielding nethicite. With this in mind, the party plan to follow Cid to Giruvegan in hopes of destroying the nethicite.
Wary of Cid's intent, Reddas decides to follow up leads he found in the labs, instead of joining the party. He sends a fleet of ships to investigate the Ridorana Cataract whilst the party leaves the Port. Reddas refers them to his team - Rikken, Elza and Raz - to point them in the direction of the Feywood. Ahead of their departure, Reddas senses Ashe is still unsure whether to destroy or use the nethicite, and he implores her to remember the devastation at Nabudis before she leaves for Giruvegan.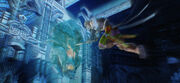 When the party return to Balfonheim after the events in Giruvegan, they learn none of Reddas's armada sent to the Cataract have returned. Reddas inquires after their trip to Giruvegan, sensing it went badly. After supposing the Sun-Cryst lies in the Cataract, Reddas provides Balthier with a skystone that will allow the Strahl fly over Jagd to the Cataract, and joins the party as a guest.
After arriving at the Cataract and climbing the Pharos, the party encounters Gabranth and Dr Cid, who reveal Reddas's true identity and past as a Judge Magister. Reddas aids the party in defeating them both, before they realize Cid's plan has already been realized; the Sun-Cryst awakens the Sky Fortress Bahamut and it is beyond control.
Ashe and Vaan struggle against Sun-Cryst's power and, seeing this to be his chance to finally to defeat his past, Reddas takes the Sword of Kings from Ashe and implores the party to leave him to deal with the volatile nethicite. Whilst the party escape, Reddas attacks the Sun-Cryst. The Cryst explodes, destroying the top of the Pharos, and killing Reddas. In his sacrifice, he stops the Bahamut from reaching its full power, allowing the party to invade it and finally confront Vayne Solidor.

Reddas joins the party as a guest after the party acquires the Treaty Blade. He wields the Chirijiraden and Ninja Knife, and is equipped with a Dragon Mail, Dragon Helm and a Battle Harness. He has the augments Last Stand, Adrenaline, Counter, Parry and Null Evade. He knows Telekinesis.
In the International version Reddas can cast Arise and Holy, and use the Technicks Stamp, Bonecrusher, Sight Unseeing and 1000 Needles. Reddas is the fastest party member the player has access to alongside Reks and his entry level is calculated by the average of the two highest leveled party members, plus two.
| Level | HP | MP | Strength | Magic | Vitality | Speed |
| --- | --- | --- | --- | --- | --- | --- |
| 5 | 208-222 | 35-42 | 26 | 23 | 26 | 35 |
| 10 | 342-378 | 45-57 | 29 | 25 | 28 | 36 |
| 20 | 726-830 | 70-101 | 34 | 30 | 31 | 37 |
| 30 | 1221-1414 | 95-145 | 39 | 35 | 34 | 39 |
| 40 | 1689-1967 | 126-201 | 44 | 39 | 38 | 40 |
| 50 | 2436-2854 | 153-248 | 50 | 44 | 41 | 42 |
| 60 | 3096-3636 | 177-292 | 55 | 49 | 44 | 43 |
| 70 | 3469-4075 | 196-323 | 60 | 53 | 47 | 45 |
| 80 | 3901-4584 | 215-354 | 65 | 58 | 51 | 46 |
| 90 | 4490-5281 | 227-372 | 71 | 63 | 54 | 48 |
| 99 | 5154-6069 | 233-378 | 75 | 67 | 57 | 49 |
| Priority | Condition | Action |
| --- | --- | --- |
| 1 | Foe: flying | Telekinesis |
| 2 | Foe: targeting self | Attack |
| 3 | Foe: highest level | Attack |
| 4 | Foe: nearest visible | Attack |
| 5 | Foe: nearest visible | Telekinesis |
Other appearances
Edit

Reddas appears in Final Fantasy Trading Card Game.

Reddas's weapons, the Chirijiraden and the Ninja Knife, do not match the appearance of their names, and have their designs based on different weapons: his longer sword resembles a Kora, a sword of Nepalese origin, and his shorter sword of a Kopis or a Khukuri.