Recall
Talk

4
13,969 pages on
this wiki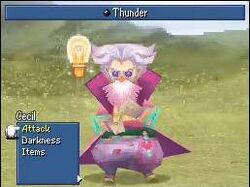 Recall (おもいだす, Omoidasu?) is a recurring ability in the Final Fantasy series. When used, it casts a random spell on enemies for no MP cost.
Appearances
Edit
Recall is Tellah's ability. In all versions of the game except the DS release, Tellah has a 15% chance each of casting Fire, Blizzard, Thunder, or Toad, a 5% chance of casting Break, Bio, Tornado, or Death, and a 20% chance of doing nothing. Tellah loses the Recall ability when he remembers all his forgotten spells at Mt. Ordeals.
In the DS release, Tellah has a 31% chance of casting Toad, a 10% chance each of Fire, Blizzard and Thunder, 6% each of using Fira, Blizzara and Thundara, 4% of using Firaga, Blizzaga and Thundaga, and a 3% chance of casting Bubble, Bravery or Faith. The latter three are normally only usable with the Twincast command. Unlike other releases, Tellah retains Recall after Mt. Ordeals. After Tellah's death, Recall is one of the three augments he will drop.
In the iOS version, Recall has a MP cost. Faith, Bubble, and Bravery can be used with Recall as well.
Recall is an ability only usable by Shantotto at Level 35. It activates at the halfway point of the BMS stage, and uses a random magic ability on the enemy.
One of Tellah's cards can use Recall by Dulling Tellah and discarding another Tellah card. The player chooses one Forward, then removes the top card of their deck from the game and deals that Forward 4000 damage times the cost of the removed card.