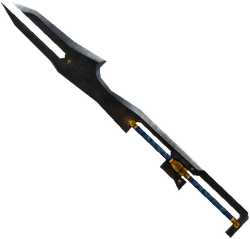 Razzmatazz (ラズマタズ, Razumatazu?) is a recurring weapon in the series.
Appearances
Edit
Razzmatazz is a weapon for Tidus, obtainable when the dominant abilities on any sword are any two status "Touch" abilities.
Razzmatazz is a Tidus Unique Soul Break Relic with FFX Realm Synergy. It grants Tidus the use of his Burst Soul Break, Abes All-star, which deals five ranged physical water attacks to all targets, grants Haste and Burst Mode to the user, and temporarily infuse the user with the power of water. Upon mastery of this Soul Break, Tidus gains a base +10 to Attack.