Kill
Talk

9
13,962 pages on
this wiki
Redirected from Raze
Relm

: I couldn't miss the chance to practice my drawing!
This article is in need of a few pictures. Perhaps you can help by

uploading

and adding a picture or two.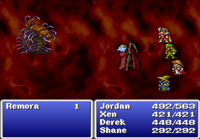 Kill (キル, Kiru?), also known as Raze, Doom or XXXX, is a magic spell that causes Instant Death to an enemy, with a hit rate much more reliable than the spell Death, which tends to miss.
See also: Death (Ability), Level 5 Death, Lv? Death, and Doom (Ability).
Appearances
Edit

Kill, also known as XXXX in the NES release and Doom in the Final Fantasy Origins release, is a level 8 Black Magic spell which inflicts instant death to a single enemy with a very high success rate.
The spell can be bought at Gaia and can only be learned by the Black Wizard class. In the GBA/PSP/iOS releases it costs 40 MP to cast.
Raze is a Level 5 Black Magic that can be used by the Black Mage, Red Mage, Magus, Sage, and Onion Knight. Raze instantly kills all enemy's whose level are not more than 3/4 of the caster's level. The spell can also be used through the item Devil's Sigh. Raze may be bought for 5,000 gil in Northeast Saronia or Doga's Village.
Kill is the Esper Zalera's main move that acts like Death. It is always 100% accurate, but the player does not gain EXP, LP, and Clan Points from the enemy.