Ad blocker interference detected!
Wikia is a free-to-use site that makes money from advertising. We have a modified experience for viewers using ad blockers

Wikia is not accessible if you've made further modifications. Remove the custom ad blocker rule(s) and the page will load as expected.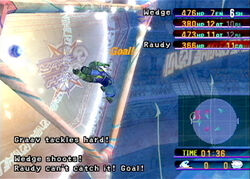 Raudy is the goalie for the Luca Goers blitzball team. Unlike the rest of the Luca Goers, who start as good players at lower levels, Raudy is a somewhat average player. Once released from contract he says "Next time I play for you, don't give me so much work to do, huh?"
He suffers from poor HP and CA stats compared to other goalies. Raudy levels up steadily, but gains no exceptional stats.
Blitzball Stats
Edit
Location
Luca Harbor, Number 3 Dock
Key Techniques
Gamble
Grip Gloves
Tackle Slip 2
| LV | 1 | 5 | 10 | 15 | 20 | 25 | 30 | 35 | 40 | 45 | 50 | 60 | 70 | 80 | 90 | 99 |
| --- | --- | --- | --- | --- | --- | --- | --- | --- | --- | --- | --- | --- | --- | --- | --- | --- |
| HP | 142 | 309 | 532 | 789 | 1,022 | 1,289 | 1,572 | 1,889 | 2,182 | 2,509 | 2,852 | 3,582 | 4,372 | 5,222 | 6,132 | 7,002 |
| SP | 60 | 60 | 61 | 61 | 62 | 62 | 63 | 63 | 64 | 64 | 65 | 66 | 67 | 68 | 69 | 69 |
| EN | 4 | 5 | 6 | 7 | 9 | 11 | 13 | 15 | 18 | 21 | 24 | 30 | 37 | 45 | 54 | 63 |
| AT | 2 | 2 | 2 | 2 | 2 | 3 | 3 | 4 | 4 | 5 | 6 | 7 | 9 | 11 | 14 | 16 |
| PA | 2 | 3 | 4 | 5 | 6 | 7 | 8 | 9 | 10 | 11 | 12 | 14 | 16 | 18 | 20 | 21 |
| BL | 4 | 5 | 7 | 9 | 10 | 12 | 14 | 15 | 17 | 19 | 21 | 24 | 27 | 31 | 34 | 37 |
| SH | 1 | 2 | 4 | 5 | 7 | 8 | 10 | 11 | 13 | 14 | 16 | 19 | 22 | 25 | 28 | 30 |
| CA | 8 | 10 | 12 | 14 | 16 | 19 | 21 | 23 | 25 | 27 | 29 | 33 | 37 | 41 | 45 | 46 |