Raubahn Aldynn
Talk

0
13,959 pages on
this wiki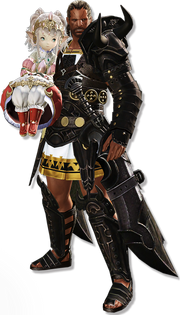 "Bwahaha! The battlefield is the best and worst of places. Where else can a man's enemy become his mentor, or an ally his enemy?"
—Raubahn
Flame General Raubahn Aldynn is a non-playable character in Final Fantasy XIV. He is the leader of Ul'dah's Grand Company, the Immortal Flames. He was once a resident of Ala Mhigo before its fall to the Garlean Empire. In buying the Coliseum in Ul'dah using his winnings as a champion Gladiator, he earned himself a place in the Syndicate. Unlike the rest of the Syndicate, he is faithful to the Sultana and has reinstated the Immortal Flames as a means for the Sultanate to combat the impending threat of the Garlean Empire.
Appearance and Personality
Edit
"The line between victory and defeat is drawn by the swift and trod by the dead."
—Raubahn's motto
Raubahn is a male Highlander Hyur with brown dreadlocks and a beard. On his back he wears his two large swords and a shield.
Creation and Development
Edit
Raubahn was developed for the Seventh Umbral Era storyline. He is named after Raubahn from Final Fantasy XI, captain of Empire of Aht Urhgan's Immortal Lions.