Rasler Heios Nabradia
18,488 pages on
this wiki
Talk

19
These roles we play. I must admit I find it... wearying.
—Rasler Heios Nabradia
Rasler Heios Nabradia (ラスラ・ヘイオス・ナブラディア, Rasura Heiosu Naburadia?) is a character from Final Fantasy XII. As the Prince of Nabradia he defends his homeland with all his might. His story is expanded upon in the Final Fantasy XII manga.
Appearance
Edit
Rasler is a young man with short, light blond hair and grey eyes. Rasler wears a white suit of armor with gold detailing, including a chest-plate, buckled boots and a neck piece. His suit includes a royal blue drape at the waist with fleur-de-lis details and a tasseled finish, and he keeps his sword in a scabbard on his hip. Rasler's final design remains virtually unchanged from early concept artwork.
Personality
Edit
Rasler is patriotic and passionate and would lay his life on the line for Nabradia. He has an unwavering—though perhaps unfounded—sense of hope that the situation can be rectified even at the worst of stages.
Musical themes
Edit
When Ashe witnesses a vision of Rasler's "ghost" the theme "The Princess' Vision" (王女の幻影, Ōjo no genei?) plays.

Other appearances
Edit
Rasler appears in the Final Fantasy Trading Card Game published by Square Enix in Japan.

Other media
Edit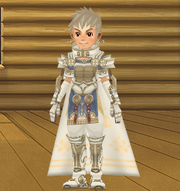 Users in Square Enix Members Virtual World community can make their character appear as Rasler. Rasler's hair costs 100 crystals and his clothes cost 500 crystals.

Rasler's sprite is unlocked in the Sky Pirate's Den after completing every character's License Board, including Espers, earning the player the title of Conqueror.
Rasler may be named after Prince Ralse, a character from The Dream Oath of Final Fantasy VI who was the prince of the eastern lands. Similarly, Nabradia is in eastern Ivalice.
Though he is not a playable character he is the first character to appear in the opening credits.
There is a dummied weapon in the game called the Hero's Blade, which may be Rasler's sword. It appears in Ashe's promotional poster as the sword she is wielding, and in the in-game cutscene where King Raminas gives the sword to Rasler.