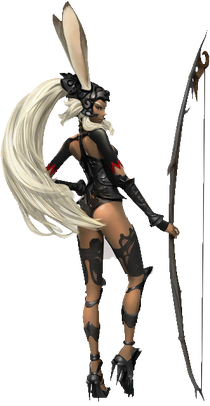 The Ranger (狩人, Karyūdo?, lit. Hunter), also known as Hunter, is a job that appears in various games in the series.
Rangers are mostly known for their ability to equip various ranged weapons to attack, primarily bows. Their most consistent special ability is called Barrage or Rapid Fire. With this ability, the Ranger can attack multiple times (generally, but not always, four times) in a single turn. They also have the ability Aim, which increases their damage and ensures a successful hit.
In some games, Rangers can cast some basic White Magic. Because they wield bows, Rangers are adept at fighting flying and bird-type enemies, which take additional damage from arrows and have their high evasion nullified by the Ranger's high Accuracy. Rangers overlap somewhat with Archers, but are more physically oriented while Archers rely on status attacks. The Archer class is mostly exclusive to games set in Ivalice, while with the exception of Final Fantasy Tactics A2: Grimoire of the Rift, Rangers do not appear.
Appearances
Edit
The Ranger job is received from the Fire Crystal. In the NES release they cast White Magic, while in the 3D release they have the ability to attack four times.
IV Rosa Joanna Farrell is officially classified as a White Mage. However, she has the Aim ability, and in the 3D release is the only character who can equip bows, both attributes of a Ranger.
The Ranger job is held by one of the shards from the Fire Crystal that are found on a black chocobo's gullet. The Ranger can call upon the abilities of animals and fire multiple shots from its bow.
X Though there is no official job system, Wakka fights using long-ranged blitzballs, which are effective against flying enemies. He can also use his Overdrive to attack multiple enemies and imbue his attacks with status and elemental properties. His section of the Sphere Grid also contains the Aim ability.
The Ranger is an advanced class adept with all ranged weapons, including bows, crossbows, and guns, as well as throwing weapons. They gain many bonuses to Accuracy and several special abilities that power up their ranged attacks.
FFXIIRW Fran is given the Hunter class, and her abilities focus on inflicting status ailments and attacking from a distance with Barrage.
The Hunter is a hume job that wield greatbows and possess many powerful long-ranged attacks, with a focus on felling monsters. It also has the ability Capture, which is vital for using the Morpher job. The Hunter job is unlocked by mastering two Archer abilities.
The Ranger class is a job exclusive to seeqs. They use knives and bows, and specialize in setting traps for enemies.
The returning Hunter is available for humes once they master three Archer abilities, but gria may become Hunters without this prerequisite. Hunters can now equip knives, but learn no abilities from them.
The Ranger crown job enhances one's skill with bows.
The Ranger appears as a job and is obtained after defeating Artemia Venus.
The Ranger is obtained after defeating Artemia Venus. It is a physical damage focused job, that can deal high damage to monsters with their Hunting abilities, aided by their innate ability Precision.
Error: invalid codename. See Help:Codenames for more information.
The Mysterious Old Man is a Ranger, wielding a longbow. Ranger is also a job class the Dark Warriors can use.
Dissidia The Ranger appears in the form of a job card in the Duel Colosseum. When selected, the Ranger job card will cause enemies to hold more medals as a reward. The Ranger job card's effect stacks, yielding even more medals after defeating enemies with multiple Rangers in effect.
Dissidia012 The Ranger job card appears in the new Labyrinth mode, and increases the amount of medals won from a battle.
Ranger is a job obtained by defeating the boss of Area 7 of the Monastery Mountains. They specialize in Agility attacks, and can bring out more power when wielding bows and guns.
The Ranger is a character available to the party, he uses the Sharpshot ability during battle. Unlocks at level 2.
Ranger appears as a recruitable character. He is unlocked in North Mountain on Classic in Final Fantasy V storyline as the First Time Reward.
Error: invalid codename. See Help:Codenames for more information.
TCG Ranger appears with numerous cards. Many cards are Wind-elemental, but two are Fire-elemental, and one is Earth-elemental.
Ranger from Final Fantasy III 3D remake appears on a Triple Triad card in the version playable via Final Fantasy Portal App.

Non-Final Fantasy guest appearancesEdit
The Ranger appears in Puzzle & Dragons as part of the Crystal Defenders collaboration.
The Hunter appears on a gold card.
The Hunter appears as a job. The job specializes in attacking from a distance, its attacks are swift when attacking.

Etymology
Edit
[view · edit · purge]A ranger is an archetype found in many fantasy fiction and role-playing games. Rangers are usually associated with the wisdom of nature. Rangers tend to be wise, hardy, cunning, and perceptive in addition to being skilled woodsmen.