Series appearances
Edit
TS Ramza appeared as a recruitable character and his designated job was Squire.
Ramza was announced during the Dissidia Closed Conference 2015 to appear in the upcoming arcade game, as Dissidia's first ever representative from a non-numbered Final Fantasy title. His outfit is based on his Chapter 1 appearance.

Ramza is set to appear as a playable character.
Cloud:

I couldn't finish 'em. Looks like this's gonna get complicated.

The following tables are incomplete and require the Stats and Abilities areas to be filled. If you wish, please examine the table and add anything missing. Remove this notice upon completion.
Ramza appears in the iOS version as a purchasable character.
Ramza returns as a playable character and the main representative of Final Fantasy Tactics. He can be available from the start by transferring save data from the second demo. However, if the player did not select him among their party of four, or download the demo, he can later be unlocked by collecting Yellow Crystal Shards.
He is a Balance oriented character. His Limit Break, Shout, adds +50 to Strength, Magic, and Agility.
| Level | CP | HP | Strength | Magic | Agility | Luck | Stamina | Spirit |
| --- | --- | --- | --- | --- | --- | --- | --- | --- |
| 1 | 8 | 206 | 11 | 11 | 11 | 11 | 12 | 11 |
| 50 | ?? | ???? | ?? | ?? | ?? | ?? | ?? | ?? |
| 99 | 50 | 5476 | 137 | 137 | 137 | 137 | 139 | 136 |
Abilities
Edit
PFF Ramza appears as a playable character.
Ramza is a summonable Legend depicted in his default Final Fantasy Tactics outfit. His abilities are Induration, Stone Throw, Shout, and Ultima. He was first introduced in the event, "Final Fantasy Tactics The Lost Truth - Parts 1 & 2", in which he was made into a playable main character on a special stage called a Tactics Stage. In the Tactics Stage, Ramza could damage his opponents with Attack, Hallowed Bolt, Spin Fist and Ultima.
He was first introduced as an event ally in the event, "Final Fantasy Tactics The Truth is Forever - Extra Event". Leveling him up in this event granted the player rewards depending on how far he has been leveled. Leveling him up to 99 in this event granted players the SR weapon Chocobo Boomerang and the background, Lionel Castle Interior. In battle, Ramza is armed with his rapier and uses the ability, Ultima.
Ability Cards
Legend Cards
Ramza is a playable character who could be initially recruited during the Challenge Event By Stone Revealed as the First Time Reward for completing the event's Orbonne Monastery stage.
Assessment
Ramza's story role is Squire and his combat role is Physical Support.
Ramza is a solid brawler-supporter fighter in the ever-expanding mix of characters. He has strong physical stats and can access a diverse array of weapons and combat abilities. Perhaps more importantly, Ramza has the full set of Support skills at his command, including the rarer Breakdown abilities that give the party the upper hand on otherwise fearsome foes.
Stats
Level
HP
Attack
Defense
Magic
Resistance
Mind
Accuracy
Evasion
Speed
1
212
12
8
10
8
8
20
20
95
10
825
29
20
24
20
20
20
20
100
20
1,506
49
35
41
33
33
20
20
106
30
2,188
69
49
57
47
47
21
21
112
40
2,869
89
64
74
61
61
21
21
118
50
3,551
109
78
91
75
75
22
22
124
60
4,232
128
92
107
88
88
23
23
130
65
4,573
138
100
115
95
95
23
23
133
70
4,913
148
107
124
102
102
23
23
136
Rank

Max: 5

4
4
2
3
2
2
3
3
3
Abilities
Ramza can use Combat abilities up to rarity rank 4, Support abilities up to rarity rank 5, Knight abilities up to rarity rank 4, Ninja abilities up to rarity rank 4, and Bard abilities up to rarity rank 3.
His default Soul Break is Focus, which at the expense of one Soul Gauge segment temporarily raises the user's Attack.
Equipment
Ramza can equip the following weapon types: daggers, swords, katanas, axes, and instruments.
He can equip the following armor types: shields, hats, helms, light armor, heavy armor, robes, and bracers.
He can equip accessories.
FFBE Ramza appears as a vision obtainable through summoning. His job is Squire. His trust mastery reward is Brave Suit. He possesses the special abilities Entrust, Mind Break, DEF +20%, SPR +20%, Medicate, Cheer, Holy Blade, Justice, Weapon Break, Hero's Rime, MAG +30%, HP +20%, ATK +20% and Auto-Refresh. He possesses the magics Protect, Shell, Cura and Ultima. He can exclusively use the special ability Second Wind. His limit burst is Scream.
No. 259: "A young man who appears in the tales of holy stones known as auracite in the distant world of Ivalice. Ramza is a mysterious warrior who left many questions unanswered, after his untimely death, regarding his role in the War of Lions, and his actions as a heretic. Born the third and last son of the noble house of Beoulve, he strove to uphold his family name by becoming a knight alongside his childhood friend Delita, eventually joining the Gariland Royal Military Akademy with him. However, when compared to his two half brothers who were already knights, he never considered himself worthy of the house name."
No. 260: "A young man who appears in the tales of holy stones known as auracite in the distant world of Ivalice. Ramza is the third and last son of the noble house of Beoulve, who always felt inferior to his two more successful half brothers. A virtuous young man with little knowledge of the intrigues that hatch like snakes in times of war, Ramza remained oblivious to the dark side of the world he inhabited. He held great promise as the son of a respected house, but his life was much altered by the events that would follow the great conflict known as the War of Lions."
—Entries for different versions of Ramza.
TCG Ramza appears appears as card and is part of the Thunder-elemental set.
Ramza appears on Triple Triad cards in the version available via Final Fantasy Portal App.
Guest appearances
Edit
Lord of VermilionEdit
In Lord of Vermilion III and Lord of Vermilion Arena, Ramza appears as a recruitable character.
Ramza Beoulve appears as a boss. He wields the Onion Gloves, which is usually an armor piece, as a weapon.
Ramza is a unit recruited during the Ramza Recruitment Event. He is a Four star Super Rare Fighter unit and his unique ability is Steel, which at max level Cures 4 random allies of the Vulnerable status ailment as well as bequeaths them 3 health and 2 attack.
Little NoahEdit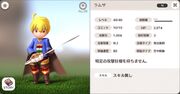 Ramza appears as a recruitable character.

Ramza appears as a card in the Ivalice Special Arena has a limited-time special arena with eighteen floors.
Ad blocker interference detected!
Wikia is a free-to-use site that makes money from advertising. We have a modified experience for viewers using ad blockers

Wikia is not accessible if you've made further modifications. Remove the custom ad blocker rule(s) and the page will load as expected.