Ramza Beoulve
19,484 pages on
this wiki
Talk

74
Ramza Beoulve, also known as Ramza Lugria, is the main protagonist in Final Fantasy Tactics. He is a member of the respected House Beoulve. Ramza's father, Barbaneth Beoulve, was a Knight Gallant of the Fifty Years' War. Ramza has one sister, Alma, whom he loves dearly and is close to. Ramza also has two half-brothers, General Zalbaag of the Order of the Northern Sky, and Dycedarg, who serves directly under Duke Larg.
Appearance
Edit
Ramza has long blond hair tied in a low ponytail and brown eyes. As an Order of the Northern Sky squire he wears a set of armor over a blue long-sleeved tunic meant to signify his nobility as a Beoulve, and a white cape (though this is not shown on his in-game sprite).
After becoming a mercenary he cuts his hair and wears a dark purple, heavy armor plating on his torso, elbows and shoulders with two spikes on each shoulder protector. Underneath he wears a black leather turtle-neck that covers the wrists of his leather gloves over white gauntlets. He wears white, plated, long boots with two spikes on each knee protector over leather trousers. In the CGI cell-shaded scenes, he is depicted based on his official art.
In the final chapter Ramza's shoulders, elbows, forearms, hands, legs, and feet are plated in a cyan armor. The shoulder protectors have an oval hole on the inside of a thick, black fabric. His elbow protectors are worn outside of the black garment, along with his arm and hand protectors worn over leather gloves. The black fabric has an appliqué of a white bull's head on the chest. The legs are supported by a leather strapped girdle with a gold buckle holding groin and thigh suspenders, worn over white leather pants. The lower leg and feet protectors are worn over brown boots. This outfit is not seen in the end of the Final Fantasy Tactics: War of the Lions remake where he retains his mercenary outfit from chapters 2 and 3.
Personality
Edit
Initially Ramza's motivation to fight and protect others is mainly to uphold his family name. His character profile states that "he turned out worst of the four siblings and is aware of it", and wishes to prove himself worthy of the house name.
After deciding to leave House Beoulve, Ramza becomes a mercenary working under Goffard Gaffgarion wishing to protect people from injustice, even claiming "he had no wish of changing the world for just a select few while others suffer". Ramza learns a name means nothing if injustice is used to uphold it, a belief he maintains even when the Church of Glabados brands him a heretic. In the second battle against Barich in Necrohol of Mullonde, Ramza proclaims a man without pride can never be free, becoming a hero who fights more for others than for himself.
The point of Ramza's character is to show the true reasons behind virtue; people who do "good" by manipulation of others are not really virtuous, and the true "good", expressed through justice, is shown by Ramza; false "good", expressed through manipulation with good intentions, is expressed by his childhood friend Delita Heiral. True heroic actions are rarely recognized, but are necessary regardless of the lack of rewards.
Stats and equipment
Edit
Ramza begins the game with an even Bravery and Faith value of 70, and comes equipped with the Broadsword, Leather Cap, Clothing, and Battle Boots. Ramza has the normal bonus to HP and Physical Attack given to male units, but he also has the same bonuses to MP and Magic Attack as a female unit. Since Ramza is the lead protagonist and a permanent, essential party member, he won't leave the party if his Faith exceeds 90. Hence, the player can raise his Faith to 100 and make him an exceptionally effective spellcaster.
Rendezvous
Edit
When fought in the eleventh Rendezvous battle: All-Star Melee, he is two levels higher than the highest level deployed unit. He starts with 70 Bravery and Faith, and is a Knight. He comes equipped with the Ragnarok, Venetian Shield, Crystal Helm, Crystal Mail, and Guardian Bracelet. He has access to the Arts of War and Item command, as well as the abilities First Strike, Safeguard, and Move +3.
Ramza is voiced by Phil LaMarr in the English version, who also voiced Reddas, another character from the Ivalice Alliance. In the upcoming Dissidia Final Fantasy for arcades he will be voiced by Shinnosuke Tachibana.
Other appearances
Edit
Ramza appeared as a recruitable character and his designated job was Squire.
Ramza was announced during the Dissidia Closed Conference 2015 to appear in the upcoming arcade game, as Dissidia's first ever representative from a non-numbered Final Fantasy title. His outfit is based on his Chapter 1 appearance.
Cloud:

I couldn't finish 'em. Looks like this's gonna get complicated.

The following tables are incomplete and require the Stats and Abilities areas to be filled. If you wish, please examine the table and add anything missing. Remove this notice upon completion.
Ramza appears in the iOS version as a purchasable character.
Ramza returns as a playable character and the main representative of Final Fantasy Tactics. He can be available from the start by transferring save data from the second demo. However, if the player did not select him among their party of four, or download the demo, he can later be unlocked by collecting Yellow Crystal Shards.
He is a Balance oriented character. His Limit Break, Shout, adds +50 to Strength, Magic, and Agility.
| Level | CP | HP | Strength | Magic | Agility | Luck | Stamina | Spirit |
| --- | --- | --- | --- | --- | --- | --- | --- | --- |
| 1 | 8 | 206 | 11 | 11 | 11 | 11 | 12 | 11 |
| 50 | ?? | ???? | ?? | ?? | ?? | ?? | ?? | ?? |
| 99 | 50 | 5476 | 137 | 137 | 137 | 137 | 139 | 136 |
Abilities
Edit
Ramza appears as a playable character.
Ramza is a summonable Legend depicted in his default Final Fantasy Tactics outfit. His abilities are Induration, Stone Throw, Shout, and Ultima. He was first introduced in the event, "Final Fantasy Tactics The Lost Truth - Parts 1 & 2", in which he was made into a playable main character on a special stage called a Tactics Stage. In the Tactics Stage, Ramza could damage his opponents with Attack, Hallowed Bolt, Spin Fist and Ultima.
He was first introduced as an event ally in the event, "Final Fantasy Tactics The Truth is Forever - Extra Event". Leveling him up in this event granted the player rewards depending on how far he has been leveled. Leveling him up to 99 in this event granted players the SR weapon Chocobo Boomerang and the background, Lionel Castle Interior. In battle, Ramza is armed with his rapier and uses the ability, Ultima.
Ramza is a playable character who could be initially recruited during the Challenge Event By Stone Revealed as the First Time Reward for completing the event's Orbonne Monastery stage.
Assessment
Ramza's story role is Squire and his combat role is Physical Support.
Ramza is a solid brawler-supporter fighter in the ever-expanding mix of characters. He has strong physical stats and can access a diverse array of weapons and combat abilities. Perhaps more importantly, Ramza has the full set of Support skills at his command, including the rarer Breakdown abilities that give the party the upper hand on otherwise fearsome foes.
Stats
Level
HP
Attack
Defense
Magic
Resistance
Mind
Accuracy
Evasion
Speed
1
212
12
8
10
8
8
20
20
95
10
825
29
20
24
20
20
20
20
100
20
1,506
49
35
41
33
33
20
20
106
30
2,188
69
49
57
47
47
21
21
112
40
2,869
89
64
74
61
61
21
21
118
50
3,551
109
78
91
75
75
22
22
124
Rank

Max: 5

4
4
2
3
2
2
3
3
3
Abilities
Ramza can use Combat abilities up to rarity rank 4, Support abilities up to rarity rank 5, Knight abilities up to rarity rank 4, Ninja abilities up to rarity rank 4, and Bard abilities up to rarity rank 3.
His default Soul Break is Focus, which at the expense of one Soul Gauge segment temporarily raises the user's Attack.
Equipment
Ramza can equip the following weapon types: daggers, swords, katanas, axes, and instruments.
He can equip the following armor types: shields, hats, helms, light armor, heavy armor, robes, and bracers.
He can equip accessories.
Ramza appears appears as card and is part of the Thunder-elemental set.
Ramza appears on Triple Triad cards in the version available via Final Fantasy Portal App.
Non-Final Fantasy guest appearancesEdit
Lord of VermilionEdit
In Lord of Vermilion III and Lord of Vermilion Arena, Ramza appears as a recruitable character.
Ramza Beoulve appears as a boss. He wields the Onion Gloves, which is usually an armor piece, as a weapon.
Ramza is a unit recruited during the Ramza Recruitment Event. He is a Four star Super Rare Fighter unit and his unique ability is Steel, which at max level Cures 4 random allies of the Vulnerable status ailment as well as bequeaths them 3 health and 2 attack.
Little NoahEdit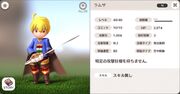 Ramza appears as a recruitable character.

Ramza appears as a card in the Ivalice Special Arena has a limited-time special arena with eighteen floors.
Ramza's character has many things in common with Basch fon Ronsenburg from Final Fantasy XII, as both are branded traitors throughout Ivalice, yet still do what they think is right.
Additionally, Marche Radiuju, the main protagonist from Final Fantasy Tactics Advance, has a strong physical resemblance to Ramza.
The three colors represented on the art of Ramza in his initial outfit are the same set of colors that make up Luso Clemens's outfit in Final Fantasy Tactics A2: Grimoire of the Rift.
Ramza only draws his sword once in a cutscene when facing Wiegraf Folles outside Orbonne Monastery. Otherwise Ramza tries to use negotiation, even on people bent on attacking him.
Although it is possible to rename Ramza in Final Fantasy Tactics: The War of the Lions, due to the game's use of prerendered cutscenes, other characters will still mention him by the name "Ramza".
Although the game's ending may have seemed ambiguous, Yasumi Matsuno has confirmed Ramza is alive and went on to have another adventure in a different country.[1] However, he also added that it's up to the player's interpretation a short time after.[2]
Although Ramza's armor changes in Chapter 4, he's still seen with his Chapter 2 armor in the FMV events in Chapter 4 (such as in Balthier's recruiting).
Ramza's artwork for his Chapter 1 appearance shows him holding a rapier. This weapon type is not within the game. This weapon is named Broadsword in Dissidia Final Fantasy, and is wielded by Ramza in other appearances outside of his main game.
References
Edit