Relm:

I couldn't miss the chance to practice my drawing!

This article is in need of a few pictures. Perhaps you can help by uploading and adding a picture or two.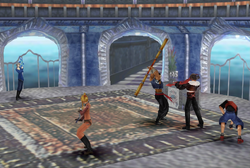 Raijin Special (秘技「雷神飛竜昇」, Higi "Raijin Hiryūshō"?, lit. Secret Skill "Thunder God Flying Dragon Ascent") is a recurring ability in the series. It is an ability used exclusively by Raijin, acting as his ultimate attack.
Appearances
Edit
VIII Raijin Special is an enemy ability used by Raijin during the second and third battles with him. It deals non-elemental physical damage to one target, and will always yield a critical.
FFRK Raijin Special is an enemy ability used by Raijin, which inflicts major non-elemental damage to one target.
Ad blocker interference detected!
Wikia is a free-to-use site that makes money from advertising. We have a modified experience for viewers using ad blockers

Wikia is not accessible if you've made further modifications. Remove the custom ad blocker rule(s) and the page will load as expected.