Relm:

I couldn't miss the chance to practice my drawing!

This article is in need of a few pictures. Perhaps you can help by uploading a picture.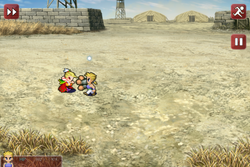 Raging Fist (爆裂拳? or ばくれつけん, Bakuretsuken?), also known as Pummel and Explosive Fist, is a recurring ability in the Final Fantasy series. It is a quick series of powerful punch attacks and is usable by Monks.
Appearances
Edit
VI Raging Fist is Sabin's first Blitz. It hits one enemy for unblockable damage that ignores defense, and its battle power is 110. The input for Raging Fist is



.
XI Raging Fists is a hand to hand Weapon Skill that strikes five times.
Explosive Fist is usable by Eight and requires Wildfire Stance: Power Up to be learned before Explosive Fist can be used.
Raging Fist is the level 18 ability for the Monk class, requiring 500 AP to learn. At the cost of 30 MP, it inflicts multiple, non-elemental damage to one target.
Dissidia012 Raging Fists is an aerial Bravery attack for Prishe, which hits an opponent five times and can combo without actually having to hit the opponent. It costs 20 CP to equip (10 if mastered), 150 AP to master, hits low, and is learned initially at level 22. Another version of Raging Fists is a Bravery follow-up attack, acting in the same manner as the normal version. It costs 10 CP to equip instead (5 if mastered), and can induce Chase.
FFRK Raging Fist is Sabin's default Soul Break which at the expense of one Soul Gauge segment deals physical damage to one target equal to 150% damage potency of a conventional attack.
TCG One of Sabin's cards is able to use Raging Fist as its ability. When Sabin attacks, the player discard another Sabin card to use Raging Fist, dealing damage to a chosen Forward equal to Sabin's power.
Etymology
Edit
The ability has also been known as "Pummel". [view · edit · purge]Pummel is a stand-up grappling position in sports, wrestling, and some martial arts.