Quon Yobatz
Talk

0
13,962 pages on
this wiki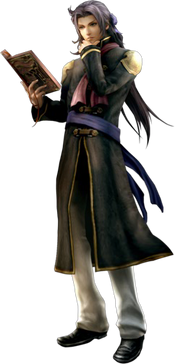 Quon Yobatz (クオン・ヨバツ, Kuon Yobatsu?) is a supporting character from Final Fantasy Type-0 and is voiced by Ryōtarō Okiayu.
Appearance and Personality
Edit
A magic researcher from Class Third, Quon shows absolutely no interest for the common magic studied by everyone else and is constantly looking for the ultimate magic. According to the Crimson Codex, Quon is 18 years old and 188cm tall.
Quon is a student at the Peristylium Suzaku often found in the library conducting research. He acknowledges those with intelligence, such as Queen, and generally feels that talking with uncultured students like Nine is a waste of time and ignores them. Amongst his research interests is the nature of Phantoma.
Quon's devotion to magical research stems from his interpretation that "Agito", the legendary savior, would be an individual with mastery over all magics. Finding that his magical knowledge is useless against the Lulusath creatures that have come with Finis, he comes to believe that Agito is nothing but an illusion created so people would not lose hope and despair in the time of Finis. When Eight and Deuce attempt to persuade him not to lose hope, Quon reveals that even the Suzaku l'Cie, Zhuyu, has fallen to the Lulusath and remains convinced that Finis will destroy all of Orience.
Like a number of supporting Suzaku students, Quon will join Class Zero if a number of sidequests relating to him are fulfilled.
Other Appearances
Edit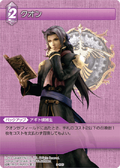 Quon appears in the Final Fantasy Trading Card Game.