Quistis Trepe
Talk

55
16,406 pages on
this wiki
You know, the boys often choke on this test when I come with them. I guess my charm makes them nervous...
—Quistis Trepe
Quistis Trepe is a playable character in Final Fantasy VIII. She is a child prodigy and Blue Mage, and Instructor No. 14 at Balamb Garden. Her fans are referred as "Trepies" after her fan club.
Appearance
Edit
Quistis wears a salmon zipped vest with a gold-rimmed fold-over collar, brown arm warmers and brown gloves, a long salmon skirt with a silver waistband, black pants, a brown belt and black shoes. She has blue eyes and wears her blonde hair tied up at the back, held with a silver comb accessory, and has two long fringes framing her face. As an instructor in Balamb Garden she wears her SeeD uniform and a pair of silver-rimmed glasses.
Personality
Edit
Uses a whip. When in danger, uses monster skills she has learned. Her admirers in the Garden have formed a fan club.
—Scan description
Quistis is known as a child prodigy around Balamb Garden. At the age of 15 she became a SeeD, and now at 18, is the youngest instructor in the Garden. She is less strict than the other instructors, leading some of her students to not take her seriously and to treat her with disrespect. Quistis tries to maintain her calm and due to her quiet assertiveness, stoic nature and restraint, she mulls over her worries alone, kept at a distance from her pupils by her rank.
Quistis would love to develop a more personal relationship with the people around her, particularly with Squall, yet hesitates to make a move. At first she mistakes her feeling protective of Squall for love, but later comes to realize the connection she felt was the latent sisterly feelings of responsibility from a time she had tried to comfort him after he had become estranged from his "Sis". Despite her composed exterior, Quistis can get emotional. She thinks of herself as the group's "big sister" and takes it upon herself to look after everyone. As she regards the Garden as her home, she is fiercely protective of it and all that SeeD stands for.
While she feels at ease Quistis displays her more easygoing side. Unbeknown to most, Quistis is the best Triple Triad player in Balamb Garden, and a member of a secretive card club. If she is in the party when they visit Zell's room in Balamb, she will playfully snub him by recounting an embarrassing story of him, and if the party visits the manor in Winhill, Quistis spooks her team mates by pretending to be a ghostly voice emanating from an old suit of armor.

Quistis is a Blue Mage who wields a whip in battle. She is the first party member to join Squall.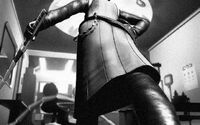 Quistis wields the whip as her default weapon. Through upgrades via junk shops, she can come to wield other variant models. It is thought that, when not in use, she wraps and stores the whip in a pouch behind her back. Depending on the particular whip she uses, Quistis's weapons can increase her attack power and hit accuracy as well as how much damage she does with her Limit Break.
There are four whip models available for Quistis:
Main article: Blue Magic (Final Fantasy VIII)
Blue Magic is Quistis's Limit Break and involves learning enemy abilities by using special items obtained in various ways (winning a battle, finishing a subquest, modifying from cards etc). Once an item is used on Quistis, she will learn the Blue Magic ability permanently. Teaching every Blue Magic spell to Quistis in the Steam version earns the player the Blue Magic Master achievement.
| LV | HP | Str | Vit | Mag | Spr | Spd | Luck |
| --- | --- | --- | --- | --- | --- | --- | --- |
| 1 | 216 | 1 | 1 | 1 | 2 | 19 | 14 |
| 10 | 582 | 8 | 6 | 8 | 8 | 21 | 15 |
| 20 | 980 | 15 | 11 | 14 | 13 | 22 | 15 |
| 30 | 1370 | 21 | 16 | 20 | 18 | 24 | 16 |
| 40 | 1753 | 26 | 20 | 25 | 22 | 25 | 17 |
| 50 | 2127 | 31 | 23 | 29 | 26 | 27 | 18 |
| 60 | 2494 | 36 | 26 | 33 | 29 | 28 | 18 |
| 70 | 2853 | 39 | 28 | 36 | 31 | 30 | 19 |
| 80 | 3205 | 42 | 29 | 39 | 33 | 31 | 20 |
| 90 | 3548 | 45 | 30 | 41 | 34 | 33 | 20 |
| 100 | 3883 | 46 | 30 | 42 | 34 | 34 | 21 |
Quistis
Element
None
Refine
1 refines into 3 Samantha Souls
Drop
N/A
Card
N/A
Level 10 (Player Card)
Win
The Trepies in the Balamb Garden classroom or cafeteria.
The CC Group in the Ragnarok airship on disc 4.
As the King of Balamb Garden's Card Club, Quistis is the final challenger to face in the CC Group side event. To get her to challenge Squall, the player must first defeat CC Heart (Xu) and head to the infirmary and talk with Dr. Kadowaki. After she mentions the King, the player must return to Squall's room and take a nap. When he wakes up, there is a chance of Quistis standing in Squall's room, decked in her SeeD uniform, ready to challenge him (it might take many tries, but the player can sleep over and over until she appears. It doesn't matter if Squall has other people in his party at this time).
Quistis has the rare Gilgamesh card. After being defeated in Squall's dorm room, she can be challenged on the Garden bridge. On disc 4, Quistis, along with the other CC members, can be challenged onboard the Ragnarok. To play Quistis the player must have her in the party and head to the Airlock, and then talk to her in that screen.

Creation and Development
Edit
When designing the characters, Tetsuya Nomura had wanted at least one female character to wear a skirt. Quistis was originally supposed to fill this part, but Nomura decided a long skirt worn over pants would look better and the skirt-wearing role was passed to Selphie. In an interview, Nomura has mentioned he was surprised upon learning Quistis was cast as Squall's teacher.[3]

Musical Themes
Edit
Though Final Fantasy VIII does not have individual character themes, Quistis's theme is often considered to be "Tell Me", a song on the original soundtrack. The song first plays when Quistis and Squall are talking in the secret meeting place in Balamb Garden's Training Center, and she laments the loss of her instructor position.
Other Appearances
Edit
An icon sprite of Quistis appears in the Pocket Station memorycard file manager.

Quistis makes a small cameo in Dissidia Final Fantasy as a tutor from the in-game manuals. Along with Irvine, she explains the game's accessory system.
Quistis appears as an ally and a summonable Legend in Final Fantasy Airborne Brigade. She is depicted in her Final Fantasy VIII default outfit. Her EX ability is Micro Missile.
Quistis appears in Final Fantasy Artniks.

Quistis appears in the Final Fantasy Trading Card Game, represented in one card of the Aqua element. She is depicted in her Final Fantasy VIII artwork.

Non-Final Fantasy Appearances
Edit
Quistis appears in this edition of the Monopoly-like video game available only in Japan for the PlayStation Portable. Although not a playable character, she assists the player in learning the game through the tutorial mode, giving helpful advice as the player's instructor.

Dragon Quest & Final Fantasy in Itadaki Street MobileEdit
Quistis reappears in this mobile-phone edition of Dragon Quest & Final Fantasy in Itadaki Street Portable. She once again assists the player in the game as their instructor.


In Shiro Amano's manga adaptation, Quistis Trepe gets a recurring cameo as the main character's idol and fanboy obsession, but in the original translation her name was mistranslated into "Kistis Tulip". The manga's main character, Toto, collects everything involving her, including fake autographed photos and life-sized dolls. He even attempts to defeat three evil dragons with the request of meeting Quistis in person as payment.

Merchandise
Edit
Quistis has appeared in some merchandise, ranging from action figures to vinyl statues, Coca-Cola bottlecap figures and a real version of her Triple Triad card.
Etymology
Edit
Quistis's name in Rōmaji is Kisutisu Turīpu. The origin of her name is unknown.
Quistis is not featured in the Final Fantasy VIII Demo. In the evacuation of Dollet FMV, a Dollet soldier mans the gun turret that Quistis uses in the final game to fight off the X-ATM092.
Quistis's menu portrait is the only one facing to the right; every other main character's and temporary character's portrait faces to the left.
Quistis is the eldest out of the "orphanage gang", beating Seifer by mere months.
In the North American release Quistis's height was listed as 168 cm (5'6"), however, the Final Fantasy VIII Ultimania, the latest edition of which was released seven years after the game's release, revised the height to 172cm (5'8"). This is because all character heights were converted wrong from their original metric values to the imperial system.
If Quistis is in the party and the player talks to a man on a railway bridge in Timber, he gives her a Potion because he had seen her on TV during the president's announcement broadcast.
After Balamb Garden becomes mobile, when the party members are not assigned as player characters they wander the Garden on their own. Quistis stands in the Garden's control room, which is where she can be challenged to Triple Triad if the player has completed the Card Club sidequest.
The Ragnarok is piloted by Selphie whenever she isn't in the player party. If Selphie is unavailable, the Ragnarok is piloted by Zell, and if both are in the player party, Quistis takes the reins.
References
Edit