Quan's Dwelling is a location in Final Fantasy IX, situated near the city of Treno. It is a cave filled with natural gas fissures and a hot spring. The first opportunity to explore this location is at the start of disc 2 when Dagger, Steiner, and Marcus arrive in Treno. Dagger will be under the player's control at this time.
It can later be visited by the rest of the party early in disc 3 when they are visiting Treno for the Tetra Master tournament. Zidane will be under the player's control at this time. At the bottom of the cave, there is a spring, which fully restores the active party's HP and MP.
Locations
Edit
The Cave
The main cave has a sand floor with hot springs at the bottom and a natural stone bridge crossing it to the dwelling at the back of the cave. Touching the springs heals the party's HP and MP. In the bottom right corner the party can find Stellazzio coins: Scorpio, and after obtaining every other coin, Ophiuchus.
The Dwelling
The dwelling is in a state of disrepair and empty. There writing on the wall where Quan used to measure Vivi's height. During the Disc 3 event the layout of the dwelling momentarily changes to include a pile of food on the table. The way to the right leads to the Fishing Post.

Fishing Post
The balcony outside is where Quan used to fish, and where he originally caught Vivi. This is where Zidane finds Vivi if Vivi was prompted to visit the cave during an ATE. The clock is stopped and when inspected, is implied to give the time Vivi left for Alexandria. After the Disc 3 event in the cave, the player can find an add-on in the clock. As part of the Chocobo Hot and Cold sidequest, the player can look over the ledge and see foam at the bottom, then use a Dead Pepper to dive Choco off the ledge to find Dagger and Eiko's best weapon.
Stellazzio
Edit
Quan's Dwelling holds the Stellazzio Coin Scorpio, and after giving all twelve coins to Queen Stella, the Ophiuchus coin will appear in the same spot.

Tiger Racket
Edit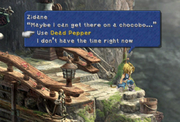 If Quan's Dwelling is visited when the player is in control of a blue or gold Choco and has some Dead Peppers, Choco will dive off the ledge, obtaining a chest otherwise impossible to find, holding the Tiger Racket, the most powerful weapon for either Dagger or Eiko.