Quan
Talk

0
13,962 pages on
this wiki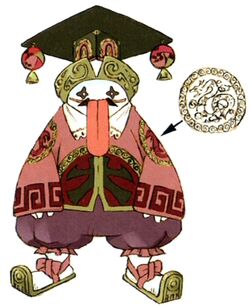 "Six months since I adopted Vivi. Still too small to eat?"
—Writings on Quan's wall
Quan (クワン, Kuwan?) is Vivi's adoptive grandfather in Final Fantasy IX. He is seen during a flashback, but not in-game, since he died before the game's beginning. He was a qu, and seemingly adopted the black mage Vivi after catching him while fishing in the Mist (and, according to markings on the wall in Quan's Dwelling, was really raising him to eat him). After he died, Vivi went to Alexandria.
Quan's clothing is similar to that of an ancient Chinese scholar, which makes sense in that he did teach Vivi a lot of things about the world. Vivi became so endeared to the Qu that he began to call Quan "grandpa". Later in the game, Vivi and Quina can visit Quan's Dwelling to learn more about Vivi's history. While there, they can also examine the broken clock out on the ledge from where Quan used to fish.
Zidane makes the observation that the clock stopped "about a week before we kidnapped Garnet", or in other words, a week before the starting events of the game. Since Vivi says that he headed to Treno to catch an airship to Alexandria right after Quan died, it could be speculated that Quan's life, like his clock, ended only a week before Vivi arrived in Alexandria.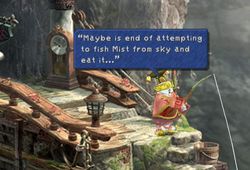 When the party visits Quale in Qu's Marsh, Vivi remarks that the Qu leader bears a striking resemblance to his "grandfather". When Vivi asks Quale about his relation to Quan, Quale lets loose that he considered Quan a "bigot", then does a horrible job of trying to cover up his blunder, instead pretending that he had never heard of Quan.
In spite of his true intent to eat Vivi, it is not beyond likelihood that the wise Qu harbored a parental affection for the young black mage he adopted only to eat. Otherwise, Quan may not have bothered to teach Vivi all he knew. This could suggest that Quan had either decided not to eat Vivi by the time of his death, or that he was indecisive as to whether he would or not. Even when his ghost appears to Quale, Quina, and Vivi, after reprimanding Quale for the latter's short-sightedness, he commends Quina and Vivi for their open-mindedness. In this scene, he expressed true pride in what Vivi had accomplished on his own, like a parent proud of their child.