Relm:

I couldn't miss the chance to practice my drawing!

This article is in need of a few pictures. Perhaps you can help by uploading a picture.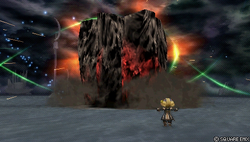 Quake (クエイク, Kueiku?) is a recurring Black Magic spell in the Final Fantasy series. It usually deals Earth-elemental damage to one or all opponents, and may not affect flying enemies, depending on the game. It has two stronger versions, Quakra and Quaga, and a counterpart exclusive to enemies called Earthquake.
Generally in games where the Earth element exists, the counter-spell Float is available to avoid taking damage.
Appearances
Edit
Quake (QAKE in the NES release) is a level 6 Black Magic spell which attempts to swallow all enemies into the ground, defeating them instantly.
The spell can be bought at Crescent Lake and can be learned by the Black Mage and Black Wizard job classes. In the GBA/PSP/iOS releases it costs 32 MP to cast.
III Quake is a Level 7 Black Magic spell that causes major Earth-elemental damage. Only the jobs Black Mage, Magus, Sage, and Onion Knight can use this spell. It can be bought in Doga's Village and in the Invincible.
It is also cast by the Earthen Drums item, and the enemies Hecatoncheir Doga, Doga's Clone, Guardian, Xande's Clone, Xande, Echidna, and Ahriman can use the spell against the party. It has a base spell power of 133.
Quake is a Black Magic spell that Palom can learn at level 36 and Rydia at level 47 in the 2D versions and comes with the spell when she rejoins as an adult in the 3D versions. In the 2D versions it is non-elemental and has a spell power of 200. Quake is slightly bugged in the GBA version, and when used by a confused character, will still hit enemies. In the 3D versions it is Earth-elemental and a spell power of 110. It damages all non-flying enemies and ignores Reflect. It has a casting time of 2, costs 30 MP to cast.
FFIV-I- Quake returns as a Black Magic spell. The imposter Rydia learns it at level 47 while Palom already knows the spell, but Rydia doesn't have the spell when she participates in the final battle. It deals major non-elemental damage to all enemies at the cost of 30 MP.
FFIVTAY Quake is a Black Magic spell that can be learned by Rydia at level 51, Palom at level 46, Fusoya initially, and Golbez at level 42. It costs 40 MP to cast.
V Quake is an Added Ability in the Gaia Hammer and Gaia's Bell weapons. The chance for it to be cast is 25% on a successful hit. Quake deals Earth-elemental damage to all enemies missing flying targets.
Quake is an Attack spell that deals earth-elemental damage to both enemies and allies for 50 MP. It can be learned from the esper Midgardsormr at a x3 rate. The status Float can render both enemies and allies immune to it. It has a power of 111. Quake can be cast by Litwor Chicken, Medusa Chicken, Earth Dragon, Level 60 Magic, Master Tonberry, Ultima Buster, Ultima Weapon, Abyss Worm, Gargantua, Kaiser Dragon, Omega Weapon, Great Dragon, and Visage.
Quake has strong healing power for any character who has Gaia Gear equipped, as it absorbs Earth attacks and restores a tremendous amount of HP to the wearer.
VII Quake is the initial spell of the Earth Materia, costing 6 MP to cast and dealing minor Earth-elemental damage. It can be bought in Kalm, Costa del Sol and Junon. The spell has a base spell power equal to 0.6875x the base magic damage. Although Lost Number's magical form has this abilitiy, it is never used in battle.
FFVIIBC Quake is an elemental Magic Materia. The stronger forms of the spell are called Quara and Quaga. Each version of the spell has its own Materia.
MP Cost: N/A
Target Type: Range
Materia Generation System: Brown
Level 1 - Default - Base Damage: N/A
Special Effect: Can be used to form a wall around the enemy, dealing damage as well as preventing them from moving.
FFVIICC Quake creates a shockwave around Zack, heavily damaging all enemies in range. It does not affect flying enemies. Quake costs 58 MP to cast and can be bought at Wutai Secret Shop for 18,000 gil, made through Materia Fusion and found during numerous missions.
Unlike other games of the Compilation, there is no stronger version. If enemies use Quake against Zack, his action is interrupted and he might fall over unless in Endure status. The attack can also be dodged.
Quake is an Earth-elemental spell that hits all targets, but is not effective against flying and earth-based enemies; the latter ones will absorb the damage. It will also miss if the target(s) are under Float status. Casting Quake in battle increases compatibility with Brothers by 2, with Eden by 0.4, and Bahamut by 0.2.
Casting Quake does not lower compatibility with any GF. Quake is cast against the party by Cerberus, that may use it in conjunction with the Triple status, Imp, that uses it when in flying mode, as well as the bosses Adel, Gargantua, Sorceress, Ultima Weapon, and Ultimecia.
Quake is a form of Ancient Magic. It is a high level, long casting form of Elemental Magic available exclusively to Black Mages. It will do massive damage to a single target. Ancient Magic scrolls drop off of Black Mage-type beastmen enemies, generally.
Quake can be used as a technique. It deals Earth damage to targets in a wide radius and extends their chain bonuses. It costs 1 TP to use and is the only means of Earth damage the player party can inflict. Lightning learns it in the Commando role at Crystarium Level 5, Snow in the Sentinel at Level 5, Sazh in the Commando at Level 2, Vanille in the Saboteur at Level 2, Hope in the Ravager at Level 3, and Fang in the Sentinel role at Level 5. The Eidolon Hecatoncheir can cast Quake as a spell in normal mode, as a replacement to Curaga.
Quake can also be cast by several enemies: Adamanchelid, Adamantoise, Adamantortoise, Corrosive Custard, Flowering Cactuar, Hecatoncheir, Long Gui, and Shaolong Gui.
XIII-2 The player cannot cast Quake, but some monsters can. Long Gui casts Quake, but as Earth has been removed as an element, it is a non-elemental attack. Aloeidai casts a spell called Landshatter that is similar to Quake, and Faeryl and Snow Villiers also use a spell identical to Quake.
LR Quake appears an EP ability. It costs 1 EP to use on Easy mode and 2 EP on Normal/Hard mode. It deals non-elemental damage to all enemies and launches them into the air. It is a special-type attack that deals one hit at a fixed damage of 9,999, has a Cut value of 55, can launch the target and, adds 1000 points of Stagger Wave Preservation. It is obtained on the Ark on Day 12.
XIV In the original version 1.0, Quake is a high level Earth-elemental spell for Conjurers (Rank 44). This spell was removed starting from Patch 1.20.
In A Realm Reborn, some enemies in the Crystal Tower raids can use Quake or Ancient Quake, inflicting damage on every player in battle.
Quake is a powerful Earth-elemental attack, which hits a large area. This Planar Magick spell is used by Hashmal.
TA2 A Blue Magick spell learned from Golems, Quake inflicts Earth-elemental damage to all units in a small area for the cost of 12 MP. It is also notable for being the only Blue Magic spell capable of linking with Magick Frenzy.
TYPE0 A Unique magic that can only be obtained in the second playthrough. It is obtained by completing a Special Order of defeating a Demonicorn in the Code Crimson mission, Chapter 2, mission 3, Operation Breakthrough, the alternative mission to the Capture of Togoreth Fortress. It has an MP cost of 255 initially and requires high level purple phantoma to improve. It has a very long range even without being enhanced and inflicts high damage to all enemies deployed on the ground, but as with other games, misses against floating or flying enemies. It ignores height differences between user and adversary, even dealing damage to enemies that usually require ranged characters to hit such as on roofs.
FFCCRoF Quake is cast by piling Fire, Thunder, Cure, and Clear. It inflicts stun on the enemy.
FFCCEoT Quake is cast by stacking Fire and Raise. It causes a pillar of rock to erupt from beneath the enemy, sending it flying into the air and inflicting a stun effect after landing.
FFMQ Quake is the strongest Black Magic spell, attacking all enemies with Earth-elemental damage. It can be repelled. Only Benjamin can learn it. There is also two enemy versions of Quake, one with an attack power of 20 and another with an attack power of 150.
FFL Quake is an ability that has 3 uses and has an attack power of 4 which deals Quake-elemental damage to all enemies, the damage formula is base on Mana. This ability is used by Lilith, SandWorm, Jorgandr, Mazin, and Gen-Bu2.
FFL2 Quake is a magical attack that has 5 uses, it also increases a Robot's HP by 9. The damage formula for Quake is the user's Mana x8. The ability target's all enemies, and deals Quake-elemental damage. This attack can be used by Behemoth, Earth, Haniwa, Ironman, Jorgandr, Lilith, Rock, and SandWorm.
FFL3 Quake is a White Magic spell, dealing Quake-elemental damage to all enemies. It cost 20 MP to use, and it can be bought for 3400 GP in Muu (Future) and Viper City (Future).
There is also an enemy attack that also goes by the name of Quake, this ability doesn't cost any MP to use and also deals Quake elemental damage to all enemies.
Quake is a low level Black Magic spell available for purchase in Guera for 500 gil. The spell costs 2 AP to cast and has a spell power of 6. The spell can only be used if the Quake Tome item is in a character's inventory.

BD Quake is a level 1 Time Magic spell. It deals minor earth damage to one target and can be group-cast. It costs 5 MP to use. It can be bought in Ancheim for 200 pg.
BS Quake is a level 1 Time Magic for the Time Mage. It deals minor earth damage to one target and can be group-cast. It cost 5 MP to use. It can be bought in Grandship and Chompshire for 400 pg.
Dissidia Quake is an HP attack for Onion Knight, chained from Blizzard. He stabs the ground with his sword and spins rapidly, causing spikes of earth to erupt under the opponent. Quake costs 40 CP to equip and 300 AP to master. The final form of Shantotto's Spirit Magic: Earth casts Quake, and summons rocks of earth to slam upwards underneath opponents.
Dissidia012 Shantotto's Spirit Magic: Earth now casts Quake when she has over 4000 Bravery.
FFRK Quake is a Black Magic ability with a Rarity of ☆☆. It deals earth magic damage to one target, it can initially be used two times and it can be honed to Rank 5. It can be created by using Greater Black Orb x5, Greater Earth Orb x3, Greater Dark Orb x3 and 10000 gil.
FablesC'sD Quake is a Lv. 3 spell that costs 3 SP to cast and attacks all enemies in 7x7 grid around Chocobo.
Non-Final Fantasy guest appearances Edit
Quake appears as a magic spell within the Forsaken Dungeon. The Basic Magic version sends a shock wave through the ground and consume one Magic Stone when used. The Ultra Magic version shakes the entire room and hits all enemies, it consumes three Magic Stones when used.
Quake is a sleight in Chain of Memories and Re:Chain of Memories, a magic command exclusive to Terra in Birth By Sleep, and an attack usable in Re:coded. It causes rocks to erupt from the ground in a short radius around the user to damage enemies.