Qu's Marsh
Talk

0
13,963 pages on
this wiki
Cid

: Oh, shut up and help me remodel the Qu's Marsh page!
Please expand this article into a full one. More details can be found, and this request can be discussed, on the associated

discussion page

.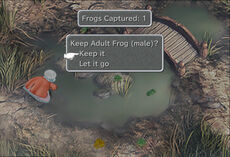 "But, Master, frogs very good! Frogs here best! Better than Alexandria's."
—Quina, to Quale
The (Qu's Marshes, ク族の沼?, lit. "Ku-zoku no numa") are the home of Qu species, including Quina, and his/her master, Quale. They are exclusive to the world of Gaia in Final Fantasy IX.
Profile
There are four Qu's Marshes in Gaia: One on the Mist Continent, one on the Outer Continent, and two on the Forgotten Continent. Apart from the Qu clan, the marshes are inhabited by frogs, which are a Qu delicacy. In the Mist Continent marsh, there is a tunnel called Fossil Roo that leads to the Outer Continent. If the player has Quina in the party when entering the part of the marsh where the frogs reside, they will be able to go frog catching. Catching frogs has two advantages: Each frog caught powers up Quina's Blue Magic spell, Frog Drop, and if the player collects enough frogs, Quina will receive items. Catching 99 frogs will challenge Quina's master, Quale, who hands over Quina's ultimate weapon upon defeat.
Qu Marshes are home to two moogles, Mogster and his brother, previously seen in ATEs; Mogster is on hand to answer any questions the player may have. Monsters also inhabit the swamplands, varying slightly between
Enemy Encounters in Qu's Marshes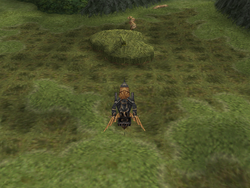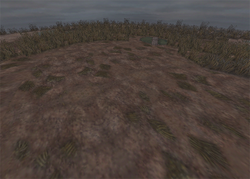 Mist Continent (Lachenta Wetlands)
Outer Continent (Donna Plains)
1x Gigan Toad
2x Gigan Toad
1x Sahagin
2x Sahagin
1x Quale
Forgotten Continent (Blairsurpass Plains)
1x Anemone
2x Anemone
1x Gigan Toad
2x Gigan Toad
1x Quale
Forgotten Continent (Lanar Island)
1x Anemone
2x Anemone
1x Gigan Toad
2x Gigan Toad
1x Quale
Musical Themes
族の沼 (Ku Zoku no Numa) "Qu's Marsh" plays on the marshes when the player visits them, as well as during Mogster and Moggy's Active Time Events.