Qu
Talk

3
15,228 pages on
this wiki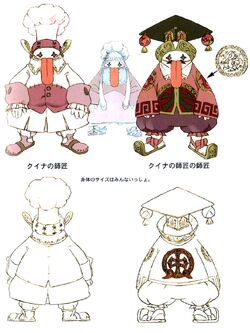 The Qu (ク族, Ku-zoku?) are a genderless race of people from the world of Final Fantasy IX. Quina, Quale, and Quan are some Qus the player encounters during the story. This rare species has a sort of training about discovering and eating new foods called the "Way of the Gourmand". Quina sees this as his/her mission. All known Qus have "Qu" as the first two letters of their names, this possibly being a cause of, or a reason for, their species name.
Qus also speak in a crude form of broken English. For example, when Quina sees a frog, s/he thinks, "I eat Frog?" However, in the Spanish version Qu speak perfect Spanish. In the German translation, most of the Qus' s-sounds come out as a mushy "sh" and their way of speaking is described by others to sound as though they are speaking with their mouths full. The Qus' Spanish and German sentences also end on the exclamation "ñam" and "mampf" respectively, translating to "munch" or "chomp". Similarly, the Qus' French sentences often end with the word "miam", which translates to "yum". In the Italian version, Qu speak with a heavy Roman accent.
This odd-looking species is harmless and permanently let their long tongues hang from their mouths and often dress like chefs.
The playable character Quina Quen is a Qu. Quina has the ability to use a form of Blue Magic with which s/he can consume enemies if their HP is more than three-quarters removed. Doing this completely destroys the enemy, and Quina has the opportunity to learn a Blue Magic spell from them. It's not known if this is a common trait among the Qu, though as Quina's master, Quale, also knows many Blue Magic spells, it is assumed to be the case.
The majority of the Qu race live in swamp areas, called Qu's Marshes, which also house both Mogster and his brother, seen in previous Active Time Events. There are several of these across the World Map. In every Qu's Marsh, Quina can take part in a minigame, in which s/he must catch as many frogs as possible, which in turn may yield items as rewards in addition to powering up Quina's Frog Drop ability.