Python (Final Fantasy IX)
Talk

3
15,980 pages on
this wiki
Cid

:

Oh, shut up and help me remodel the Python (Final Fantasy IX) page!

Please expand this article into a full one. More details can be found, and this request can be discussed, on the associated discussion page.
Python
パイソン (Paison?)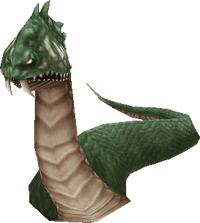 Statistics
Level
HP
MP
2
75
184
Strength
Defense
Evade
8
10
2
Magic
M. Defense
M. Evade
8
10
3
Attack
Spirit
Speed
9
10
19
EXP
Gil
40
106
The Python is an enemy from Final Fantasy IX. It can be found in Gunitas Basin and Nolrich Heights on the Mist Continent.
Formations
Edit
None

| | | |
| --- | --- | --- |
| Python x2 | 0% | 2 |
| Python x3 | 15.69% | 2 |
| Python, Carve Spider, Python | 0% | 2 |
| Carve Spider | 11.76% | 1 |
| Carve Spider x2 | 100% | 1 |

None

| | | |
| --- | --- | --- |
| Python x2 | 0% | 2 |
| Python x3 | 9.8% | 2 |
| Python, Carve Spider, Python | 0% | 2 |
| Carve Spider | 7.84% | 1 |
| Carve Spider x2 | 7.84% | 1 |
| Carve Spider, Python | 100% | 1 |

None

| | | |
| --- | --- | --- |
| Python | 5.88% | 1 |
| Python x2 | 7.84% | 1 |
| Python x3 | 7.84% | 2 |
| Python, Goblin, Python | 0% | 2 |
| Goblin | 0% | 2 |
| Goblin x2 | 100% | 1 |

None

| | | |
| --- | --- | --- |
| Python | 0% | 2 |
| Python x2 | 7.84% | 1 |
| Python x3 | 7.84% | 2 |
| Python, Goblin, Python | 0% | 2 |
| Goblin | 0% | 2 |
| Goblin x2 | 11.76% | 1 |
| Goblin, Python | 100% | 1 |

None

| | | |
| --- | --- | --- |
| Python | 0% | 2 |
| Python x2 | 9.8% | 1 |
| Python x3 | 9.8% | 2 |
| Python, Goblin, Python | 0% | 2 |
| Goblin | 0% | 2 |
| Goblin x2 | 100% | 1 |