Pyramid of Moore
Talk

1
13,964 pages on
this wiki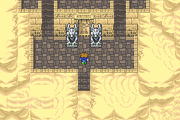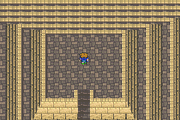 The Pyramid of Moore (ムーアのピラミッド, Muua No Piramiddo?), also known as just Pyramid, is a location in Final Fantasy V. First seen in the Desert of Shifting Sands, it houses one of the tablets needed to unseal the twelve Legendary Weapons in the Sealed Castle, as well as a lot of valuable treasure.
The pyramid has many pitfall traps, and the Walking Through Walls Glitch can be performed here.
After discovering one of the tablets lies inside the Pyramid of Moore, Bartz and his friends enter the dungeon, being halted by two Gargoyles at the entrance. At the deepest chamber, they find their first tablet, which unleashes Bahamut.
At the end of the game, when the four crystals are restored, the Crystal of Earth is placed in the Pyramid of Moore.
The background theme that plays at the Pyramid of Moore is called "Slumber of the Ancient Earth". The theme is also included on the Final Fantasy V: Dear Friends album, as a version that mixes both synthesizers and real instruments. This version is called "Intention of the Earth".