Final Fantasy X-2 Enemy
Purpurea
パルパレア (Paruparea)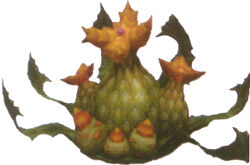 Plant
Statistics
Level
HP
MP
6
196
0
Strength
Magic
Defense
16
6
0
M. Defense
Agility
Accuracy
2
64
1
Evasion
Luck
0
0
EXP
AP
Gil
14
1
18
Purpurea
パルパレア (Paruparea)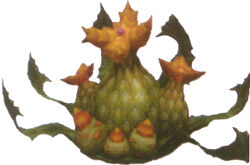 Plant
Statistics
Level
HP
MP
9
784
0
Strength
Magic
Defense
18
6
0
M. Defense
Agility
Accuracy
2
70
1
Evasion
Luck
0
0
EXP
AP
Gil
40
2
55
The Purpurea is an enemy from Final Fantasy X-2. They are of no threat and can be dealt with a simple Fire spell.
Fiend Tale
Edit
In the Fiend Tale endings, one notable Purpurea was created from the spirit of a flower cared for by an elderly couple who were murdered by a servant girl who killed them for the gil. Though intending to take revenge finding the old woman that the servant girl had become once it regain its memories, the Purpurea sees that the woman suffered enough and renounces revenge before passing on to the Farplane to be reunited with its masters.
Purpurea Coin
Coin No.
9
Coin Value
5
Trait
-
Location
Win: Luca Stadium (Dream Shop Core Sphere)
Found in the Western or Southern Expanses of the Bikanel Desert.
Related enemies
Edit