Puck (Final Fantasy IX)
Talk

0
13,972 pages on
this wiki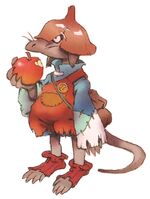 "That hurt, ya stupid jerk!"
—Puck after being attacked by the Antlion
Puck (パック, Pakku?) is a non-player character in Final Fantasy IX. He is 14 at the start of the game.[1]
Puck is the prince of Burmecia. He ran away from home one month after Freya left. Vivi meets Puck in Alexandria at the start of the game and is made Puck's slave in order to sneak in to Alexandria Castle and view the play I Want to be Your Canary. However, the guards discover them and the two are forced to flee. Puck manages to escape, but Vivi trips and is chased onto the deck of the Prima Vista.
Puck does not make another appearance until the party is staying in Cleyra, where they hear that Puck is being attacked by the Antlion. After being saved, his royal identity is revealed to the player. Additionally, Puck says he has found Freya's lost love, Sir Fratley. He runs off once again before his father or his friend Vivi has a chance to talk to him. Vivi says that Puck is the first friend he ever had.
Puck is seen back in Alexandria during the ending, in which he bumps into one of Vivi's sons.
Etymology
Edit
Main article: Puck#Etymology
In the Dawn of Souls and 20th Anniversary remakes of the original Final Fantasy, Puck is one of the automatic names the player can choose for the Thief job.
Puck is the only member of his species depicted with brown, rather than light gray or white, fur. He also has flat humanoid feet, floppy dog-like ears, whiskers, and a limp, dragging tail.
References
Edit
↑ Final Fantasy IX Ultimania, p.34