Balthier:

I'm afraid the jury's still out on that one.

This article is about a character from a title that's still to be released. As such, some of the information might be inaccurate or likely to change. Please look over our

policy for updating articles covering upcoming games

before editing this page.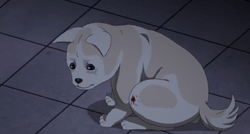 Pryna is a puppy who appears in Brotherhood Final Fantasy XV.
Brotherhood Final Fantasy XVEdit
Episode 2: Dogged Runner
Edit
Pryna is sent to see Noctis by her owner, Lunafreya Nox Fleuret, but injures her leg. She is discovered by Prompto Argentum, who nicknames her "Tiny" and covers her wound with a bandage that has his name on it. Pryna leaves Prompto one night and returns to Luna, who is overjoyed to see her. Luna learns about Prompto by inspecting the bandage on Pryna's leg; she writes the boy a letter to thank him for taking care of her puppy.

Brotherhood Final Fantasy XV
Final Fantasy XV