Proto-Babil
Talk

0
13,963 pages on
this wiki
Final Fantasy IV Enemy
{{{SNES}}}
プロトバブイル (Puroto Babuiru)
{{{image}}}
Statistics
Level
HP
MP
{{{level}}}
{{{HP}}}
{{{MP}}}
Strength
Magic
{{{Strength}}}
{{{Magic}}}
Defense
M. Defense
Evasion
{{{Def}}}
{{{MDef}}}
{{{Evasion}}}
EXP
Gil
{{{EXP}}}
{{{Gil}}}

| | |
| --- | --- |
| Location | {{{Location}}} |
| Type | {{{Type}}} |
| Steal | {{{SNESSteal}}} |
| Item Dropped | {{{SNESDrop}}} |
| Abilities | {{{SNESAbilities}}} |
| Weak Against | {{{Weak Against}}} |
| Resistant to | {{{Resistant to}}} |
| Immune to | {{{Immune to}}} |
| Absorbs | {{{Absorbs}}} |
| Other Information | {{{Info}}} |
{{{J2e}}}
プロトバブイル (Puroto Babuiru)
{{{image}}}
Statistics
Level
HP
MP
{{{level}}}
{{{HP}}}
{{{MP}}}
Strength
Magic
{{{Strength}}}
{{{Magic}}}
Defense
M. Defense
Evasion
{{{Def}}}
{{{MDef}}}
{{{Evasion}}}
EXP
Gil
{{{EXP}}}
{{{Gil}}}

| | |
| --- | --- |
| Location | {{{J2e Location}}} |
| Type | {{{Type}}} |
| Steal | {{{J2e Steal}}} |
| Item Dropped | {{{J2e Drop}}} |
| Abilities | {{{J2e Abilities}}} |
| Weak Against | {{{J2e Weak Against}}} |
| Resistant to | {{{Resistant to}}} |
| Immune to | {{{J2e Immune to}}} |
| Absorbs | {{{Absorbs}}} |
| Other Information | |
{{{PS}}}
プロトバブイル (Puroto Babuiru)
{{{image}}}
Statistics
Level
HP
MP
{{{level}}}
{{{HP}}}
{{{MP}}}
Strength
Magic
{{{Strength}}}
{{{Magic}}}
Defense
M. Defense
Evasion
{{{Def}}}
{{{MDef}}}
{{{Evasion}}}
EXP
Gil
{{{EXP}}}
{{{Gil}}}

| | |
| --- | --- |
| Location | {{{PSLocation}}} |
| Type | {{{Type}}} |
| Steal | {{{PSSteal}}} |
| Item Dropped | {{{PSDrop}}} |
| Abilities | {{{PSAbilities}}} |
| Weak Against | {{{Weak Against}}} |
| Resistant to | {{{Resistant to}}} |
| Immune to | {{{Immune to}}} |
| Absorbs | {{{Absorbs}}} |
| Other Information | {{{Info}}} |
{{{GBA}}}
プロトバブイル (Puroto Babuiru)
{{{GBAimage}}}
Statistics
Level
HP
MP
{{{level}}}
{{{HP}}}
{{{MP}}}
Strength
Magic
{{{Strength}}}
{{{Magic}}}
Defense
M. Defense
Evasion
{{{Def}}}
{{{MDef}}}
{{{Evasion}}}
EXP
Gil
{{{EXP}}}
{{{Gil}}}

| | |
| --- | --- |
| Location | {{{GBALocation}}} |
| Type | {{{Type}}} |
| Steal | {{{GBASteal}}} |
| Item Dropped | {{{GBATreasure}}} |
| Abilities | {{{GBAAbilities}}} |
| Weak Against | {{{Weak Against}}} |
| Resistant to | {{{Resistant to}}} |
| Immune to | {{{Immune to}}} |
| Absorbs | {{{Absorbs}}} |
| Other Information | {{{Info}}} |
Proto-Babil
プロトバブイル (Puroto Babuiru)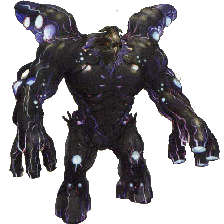 Statistics
Level
HP
99
400,000
EXP
Gil
2,000,000
99,999
{{{PSP}}}
プロトバブイル (Puroto Babuiru)
{{{PSPimage}}}
Statistics
Level
HP
MP
{{{level}}}
{{{HP}}}
{{{MP}}}
Strength
Magic
{{{Strength}}}
{{{Magic}}}
Defense
M. Defense
Evasion
{{{Def}}}
{{{MDef}}}
{{{Evasion}}}
EXP
Gil
{{{EXP}}}
{{{Gil}}}

| | |
| --- | --- |
| Location | {{{PSPLocation}}} |
| Type | {{{Type}}} |
| Steal | {{{PSPSteal}}} |
| Item Dropped | {{{PSPDrop}}} |
| Abilities | {{{PSPAbilities}}} |
| Weak Against | {{{Weak Against}}} |
| Resistant to | {{{Resistant to}}} |
| Immune to | {{{Immune to}}} |
| Absorb | {{{Absorbs}}} |
| Other Information | {{{Info}}} |
Proto-Babil, along with Geryon, is one of the two exclusive superbosses in the DS remake of Final Fantasy IV. It can only be fought if the player stole the Dark Matter item from Zeromus on their previous playthrough and uses it on the face on the moon's surface. As its name implies, it is a prototype of the Giant of Babil.
Proto-Babil is equipped with several of the most powerful attacks in the game, including several new tricks. Initially, it can use the Trap Door's Ninth Dimension for an instant kill (though this is easily dodged by way of Adamant Armor), along with a new move, Light of Babil. This attack will do incredible amounts of damage to anyone, likely doing 9,999 regardless of Adamant Armor use. It will also sometimes Counter attacks and magic with the CPU's Laser Barrage.
Once the player has inflicted 280,000 points of damage to Proto-Babil, its attack pattern will change. It will randomly either use Heal to recover over 20,000 HP, or it will use its ultimate attack, Divine Judgment, to do 6,000+ points of damage to the entire party. It will also sometimes counter attack with Object 199.
A strategy for Proto-Babil is to have a character with Draw Attacks equipped use Defend each turn and heal him/her after Light of Babil, and hit his HP down to as close to 120,000 as one can get. Then Focus three times with Cecil and Kain and use Jump/Darkness to boost the damage as much as possible. With Onion Swords equipped on both characters and some timing, one can finish Proto-Babil and completely skip the Divine Judgement and Heal phase.