Relm:

I couldn't miss the chance to practice my drawing!

This article is in need of a few pictures. Perhaps you can help by uploading a picture.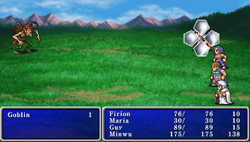 Protect (プロテス, Purotesu?), also known as Fog, Armor, Shield, or Safe, is a recurring White Magic, and later in the Final Fantasy series, a Green Magick, spell. It appears in various games in the series, and it generally halves all physical damage dealt to the target. In all cases it increases a target's resistance to physical attack, but in some games, like Final Fantasy XI, it increases the Defense of a single character by 10. Some games feature a stronger spell called Protectga.
Appearances
Edit
Protect (FOG in the NES release and Shld1 in the Final Fantasy Origins release) is a level 1 White Magic spell which increases the Defense of a single ally by 8 points. Gilgamesh is the only enemy capable of casting this spell.
The spell can be bought at Cornelia and can be learned by the White Mage, White Wizard, Red Mage, Red Wizard, and Knight job classes. In the Dawn of Souls and 20th Anniversary Edition releases it costs 3 MP to cast. The spell can also be cast by using the Murasame as an item during battle.
Protect (Shield in the Origins release) is a White Magic spell which increases the Defense of one or all allies reducing physical damage inflicted by enemies. As the spell's level grows, the spell's effectiveness and success rate increase. The effect can stack, however repeated use on the same unit(s) increases the chance that the spell will miss.
Any character can learn Protect by having them use the Protect Tome (called the Shield Scroll in the Origins release). The spell was bugged in the NES version, only working on the caster. It increases the target's Defense equal to 1/4 of the caster's Spirit stat per level.
III Protect (also known as Safe) is a level 5 White Magic spell that can be bought in Northeast Saronia and Doga's Village for 5,000 gil. It can be used by the White Mage, Red Mage, Devout, Sage, and Onion Knight. Aria can cast Protect on the whole party when she joins as a guest in the DS version. The weapon Defender also casts Protect, as does the item Turtle Shell.
The enemies Yormungand and Shadow Master can use the spell as well. It has a 75% accuracy and a base power of 5. It increases the target's Defense and Magic Defense, though if the target is using the Defend command, Protect's effects will be negated at the end of the turn. In addition, if a character under Protect changes the items in their hands, Protect is also negated.
Protect (Armor in the North American SNES and PlayStation releases) is a White Magic spell. The spell is not learnable in the SNES North American and Easy Type version. This spell is still used by Zemus's Malice, but the white magic icon has been removed from its name.
In the 2D versions, Protect has a casting time of 0, costs 9 MP with 66% Accuracy. It boosts its target(s) Defense stat by 5 points, up to a maximum of 255, for the duration of the battle. The spell can be manually targeted to either a single target or the entire party without any impact on its effectiveness. Protect can fail frequently when cast by a character with a low Spirit stat and will always fail if its target's Defense is at 255. Dispel does not remove the effect of the spell's Defense increase.
In the 3D versions, the spell sets Protect status on its targets, and can only be applied once. Its MP cost has been boosted to 15.
Asura has access to this spell in the Advance and PSP and 3D versions, while Platinum Toad can also cast the spell.
Protect is learned by Rosa and Porom at level 12, Tellah learns it after completing Mt. Ordeals and Fusoya joins the party with it. Cecil learns it as a Paladin in the 3D version at level 10.
Protect cannot be learned in the North American and Easy Type SNES versions and it goes by the name of Armor. Zemus's Malice casts it as a part of its attack script, along with Shell. The White Magic icon has been replaced with a blank space, making it appear as if it is an enemy skill.
Protect is hardcoded to have no effect during the final battle against Zeromus. The spell's animation is displayed, but the Defense stat is not modified. This is of little consequence, since Zeromus does not attack physically.
FFIV-I- Protect returns as a White Magic spell. Rosa and Porom already known the spell. It increase the Defense of all targets at the cost of 9 MP.
FFIVTAY Protect follows the same pattern than its previous version, all the White Magic casters can use this magic. Using the Murasame as an item also casts the spell. The spell can be used to target all allies at once. It is also used by the enemies Lord Dragon and Ultima Weapon.
V Protect (Protes in the Anthology release) is a level 2 White Magic spell that costs 280 gil and can be found in Carwen, Karnak, and Jachol. It uses 3 MP. It is one of the spells that can be cast from the Wonder Wand for free.
Protect can be cast by Byblos, Calofisteri, Carbuncle, Enuo, Gilgamesh at the Big Bridge, Necromancer, Siren, Zephyrus, and Apanda.
Protect is an Effect spell, also known as Safe, can be learned from Unicorn at a rate of x1, Carbuncle at a rate of x2, and Golem at a rate of x5. Celes learns it automatically at level 22. It costs 12 MP and is vulnerable to Runic. Protect can be cast by Level 20 Magic, Cherry, Moebius, Gilgamesh, Kaiser Dragon, Visage, and Dadaluma.
Protect is a Support Magic spell which halves physical damage inflicted on the target for a short time. The spell can also be cast with a Protect Stone. Casting Protect in battle increases compatibility with Carbuncle by 1, and with Cerberus by 0.2, but lowers compatibility with Diablos and Eden by 0.2 as well.
Protect
Draw from
Level 1-100: Armadodo, BGH251F2, Gesper, Hexadragon, Minotaur, NORG, Raldo, Raijin, Righty, Sacred, SAM08G, Wedge*

Second encounter

, X-ATM092
Level 20-100: Adamantoise, Wendigo
Draw points
Tomb of the Unknown King Outside, Galbadia Garden Ice Rink (accessible only during the Battle of the Gardens)
Refine
Supt Mag-RF: Protect Stone x1 = Protect x1; Turtle Shell x1 = Protect x30; Giant's Ring x1 = Protect x60; Steel Curtain x1 = Protect x100
HP-J
Str-J
Vit-J
Mag-J
Spr-J
Spd-J
Eva-J
Hit-J
Luk-J
+4
+0.06
+0.40
+0.10
+0.18
+0.03
+0.02
+0.03
+0.14
Elem-Atk-J
Elem-Def-J
ST-Atk-J
ST-Def-J
No effect
Fire, Thunder, Ice: +0.80%
No effect
No effect
Dagger and Eiko can learn the White Magic spell Protect from a Steepled Hat, Desert Boots, Rod, Mythril Racket, or Wizard Rod. It needs 30 AP to master and uses 6 MP. It can be reflected and works with Return Magic. Protect can also be used by the Iron Man and Lizard Man enemies, and the boss, Necron.
X Protect is on Yuna's path of the Sphere Grid and uses 12 MP. This spell halves physical damage, and can also be cast with a Light Curtain. Protect can be cast by Cindy, Guado Guardian (A), Sanctuary Keeper, Seymour Flux, Seymour Natus, and Th'uban.
X-2 A White Mage that has learned Shell can learn Protect for 30 AP. It uses 12 MP. It can also be used without being a White Mage while equipped with the Shining Mirror Garment Grid. Protect can be cast by Garik Ronso, Node A, Node B, Node C, Right Bulwark, Seymour (Fiend Arena), and Unum.
XI Protect is a spell that can be learned by Red Mages, White Mages, Scholars, and Paladins, though because it is such a low level spell it can be used by many characters with any of these Jobs as a Support Job. It is the earliest in a line of spells that go up to Protect V. Protect grants a flat +10 Defense.
Protect reduces physical damage by a third. In the original version it is on the Green Magick 1 license which requires 25 LP to unlock. It can bought at Rabanastre, Nalbina, and Bhujerba for 200 gil. Protectga can also be learned which casts Protect on the whole party. It requires the Green Magick 7 and costs 105 LP. It can be bought in Balfonheim Port for 9400 gil.
In the Zodiac versions, Protect is listed as White Magick 3 License, along with Shell. It can be used by the job classes White Mage and Red Battlemage. Protectga is White Magick 12 License, and can only be obtained from a treasure in the Necrohol of Nabudis. The regular Protect is also found in a treasure in Trial Mode Stage 26 (with Diamond Armlet).
Some enemies can also cast it.
Protect is a Synergist ability which increases one ally's defense by 33% for a short time. It is learned by four characters through advancing as a Synergist in the Crystarium system, those being Hope (Lv1), Lightning (Lv7), Snow (Lv7), and Sazh (Lv9). A stronger spell, Protectra, that raises Defense by 50%, is learned by Fang and Vanille. Both spells expend one ATB bar upon use.
LR Though Lightning cannot use Protect as a spell, it can be used by Angel of Valhalla after he's at bond level 2. It can also be used by some enemies.
Protect appeared as an ability in the original version. At the initial release, Protect was a Conjurer spell available for use at rank 16. The spell cost 3 action points to set and 9 MP to use. When used, Protect would enhance the physical defense of allies within an area of effect for 30 minutes.
After the release of patch 1.20, Protect remained a Conjurer spell available for use at level 6. Like before, the spell increased the physical defense of all party members within range of the target. In addition, once the player learned the Enhanced Protect trait at level 24, Protect would also increase magic defense akin to the Shell spell.
Protect is a Healer cross-role spell available at level 16. The spell raises the physical and magic defense of all allies within radius of the target for a period of 30 minutes. The spell by default has a cast time of 3.0 seconds and has a 2.5 second recast time. The spell can only be used by Conjurers, White Mages, Scholars, and Astrologians.
Protect has gone through various changes through each of the major expansions. From A Realm Reborn through the Heavensward expansion, Protect was initially a Conjurer and White Mage spell available at level 8. However for the entirety of A Realm Reborn, Protect only raised the physical defense of the party and only once Conjurers and White Mages learned the Proshell trait at level 16, Protect would also increase the magic defense of the party. However, in the Heavensward expansion, Protect's effect was changed, now raising both the physical and magic defense of the targets, allowing all classes to have access to the Proshell effect. In addition, the Proshell trait and status were removed. The ability could be used by all classes for cross class, but only the Scholar, Astrologian, and Paladin jobs could use the spell as a cross class skill.
After the release of the Stormblood expansion, Protect was removed from the Conjurer skillset and became a Healer cross-role spell instead.

Protect is a White Magick spell, and costs 70 JP to unlock. It consumes 6 MP and has a speed of 25.
Protect is a White Mage spell can be learned by equipping a Guard Staff. It needs 100 AP to master, costs 6 MP to cast, and has a range of 4. It can be stolen through the ability, Steal: Ability.
TA2 Protect can be learned by a Green Mage from Iron Hammer for 150 AP, and costs 8 MP to cast. Red Mages are also able to learn Shell through Djinn Flyssa and requires the same AP and MP to master and cast.
FFCCRoF Barrier is cast by piling Fire and Clear. It lasts for a short amount of time.
FFCCMLaaK Protect is a level 10 Protection Spell, exclusive to the White Mage class, and caps at level 100. It increases an ally's Defense, can be used once per battle, and up to three times a day.
FFCCEoT Barrier is once again cast by piling Fire and Clear.
FFL2 Defense has unlimited uses, it also increases a Robot's HP by 99 and defense by 22 when equipped on them. Defense increases the defense of a character by 5 + 1 for each MAGI the player possesses.
Protect appears a White Magic spell and costs 2 AP to cast. When the spell is used it increases a characters defense by 50%. Protect can be given to any character by having a Protect Tome in the character's inventory. The spell can be purchased for 1,000 gil in Guera and Urbeth at night, and in Horne after the player defeats Satan.

BD Protect is a level 2 White Magic. It raises the physical defense of one target by 25% for five turns. The upper limit for P.Def is 150%. It costs 5 MP to use. It can be bought in Ancheim for 400 pg.
Dissidia Protect is an support ability the Warrior of Light gains while in EX Mode. It increases his DEF by 10.
Dissidia012 Protect returns as an ability of the Warrior of Light's EX Mode with the same effect.
TFF Protect comes in three levels of power. Protect activates when HP falls below a certain threshold and reduces damage taken for the rest of the stage by a set amount. Protect Lv1 activates when HP falls below 80% and reduces damage by 15%, Protect Lv2 activates when HP falls below 65% and reduces damage by 25%, and Protect Lv3 triggers at 50% HP and reduces damage by 40%. Warrior of Light, Minwu, Cecil, Vivi and Snow learn all three levels of Protect, while Ashe learns Lv2 and Lv3.
FFRK Protect is a White Magic ability with a Rarity of ☆. It gives one target Protect, doubling Defense, it can initially be used four times and it can be honed to Rank 5. It can be created by using Minor White Orb x3, Minor Earth Orb x3 and 1000 gil.
FablesCT Protect is a status effect that halves damage until the end of the next round.
Cards that cause Protect
TCG Rosa's card, depicting her 3D render, is able to use Protect. For the discarding of another Rosa card and Dulling Rosa, Protect prevents Forwards the player controls from taking damage less than their power, until the end of the turn.
Cecil's card depicting his Theatrhythm artwork is able to use Protect Lv3. For the discard of another Cecil card, Protect Lv3 makes all the player's Forwards Active and grants them +10,000 power for the rest of the turn. However it can only be used on the opponent's turn.
Other appearances
Edit
Protect is a single tech of Lucca that cost 6 MP to cast. It grants the Protect status, boosting an ally's Defense.

Protect appears in Chain of Memories and Re:Chain of Memories as the ability of the Defender card, and raises Sora's defense. It reappears in Birth by Sleep as the first ability of the Goofy D-Link, and in Re:coded as an ability attached to several Keyblades.
It also appears in Kingdom Hearts II Final Mix as an ability attached to the Majestic Mushroom Shield for Goofy. The Majestic Mushroom+ grants Protectra. In Final Mix, instead of raising defense it reduces the damage done by 10%. Protectra reduces damage by 20%.