Prompto Argentum is a companion of Prince Noctis and a party member in Final Fantasy XV. Although not directly controllable, he is in Noctis's party and the player can co-opt moves with him and issue him commands.
He is a childhood friend of Noctis and wields firearms. Prompto takes photos and wants to save pictures of him and his friends while on the road trip. The player can upload these pictures to social media. It has been said the system was not just "thrown in", but connects to the party's actions and the story.[6]
In "Episode Prompto" DLC scenario the player can play as Prompto as he traverses the arctic imperial outlands.
Appearance
Edit
Prompto is a young man of average height and a slender build, whose visage gives off the impression of a youthful punk. He has blue eyes, light freckles and short, unruly blond hair, which he at a point insists "does not look like a chocobo butt." He wears two bands on his right arm, black gloves, a black shirt with a white pattern, and a sleeveless black vest with a dark red flannel shirt attached underneath. He wears dark pants with a faint leopard print. He wears black boots with red soles that are lined with white fur.
Prompto's black open vest has various tags. The one below the collar reads: "It's a beautiful day now watch some bastard mess it up." (The original message was "watch some bastard fuck it up," but it was changed for the final game.) The middle one on the side resembles the Harley-Davidson Motor Company logo. The back of Prompto's waistcoat reads "DEADORALIVE." Like all party members, Prompto has skull motifs to his outfit. The buttons on his jacket have skulls, he has a belt buckle in the shape of a skull, and another skull on the tag on his trousers.
As a child, Prompto was overweight and wore glasses and a two-tone tan T-shirt with a matching wristband.
In his casual outfit, he wears a burgundy sleeveless shirt with a vest over it, and gray trousers that have the number 17 inside a circle (the same design he had a child) and text "Cauthess, DO NOT ENTER". It is the same trousers that the Hunters wear.
At 30 years old Prompto has grown a goatee, looks more muscular, and wears the Kingsglaive uniform.
In "Episode Prompto", he wears winter gear. He wears a black knitted hat, and a black winter coat and trousers lined with white fur. He wears winter boots and gear to which attach the firearms he finds.
Personality
Edit
Prompto maintains a playful attitude. He is described as a skirt-chasing mood maker with a chip on his shoulder from a different social status compared to his other friends, and thus feels inferior but wishes to be useful. He makes pop culture references throughout the adventure, mimicking old song lyrics and lines from previous Final Fantasy games, and at times breaks the fourth wall by inferring their quest is like that of in an RPG. Not having been raised among nobility like Noctis, Ignis and Gladiolus, Prompto feels out of place in formal situations.
Prompto's upbeat personality makes him easy to engage in conversations with and makes him the life of Noctis's group, but he has a short attention span. When driving the Regalia in the post-credit scene of Kingsglaive: Final Fantasy XV, Prompto loses focus on the road and afterward, he is not seen driving again.
He is not a combat-hardened warrior, but has a knack for cheering people up and keeping things light-hearted. This stems from having had a sad and lonely childhood, and his outward mannerisms conceal a deep thinker. He never had friends before meeting Noctis. He tries to better himself to feel worthy of being acquainted with the crown prince, but lives his life with an imposter syndrome, always trying to please others, thinking if they discovered the truth everyone would abandon him.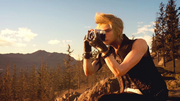 The developers put a lot of thought into his animations because of this duality, making him always moving and being more reactive than the other group members, exaggerating and overreacting. Prompto is good with machines, and tuned into technology and the latest trends.[8] Prompto claims to being both claustrophobic (fear of narrow spaces) and acrophobic (fear of heights). He hates bugs, frequently commenting on it whenever the party defeats bug-like enemies. He complains a lot, especially about nature, but his loyalty to his friends is absolute.
Prompto has an affinity toward animals, although he claims to not be into wildlife and to be "more of a pet guy". He is excited to visit the chocobo ranch at Duscae, and once helped Pryna, one of Lunafreya Nox Fleuret's dogs. Photography has been a lifelong hobby for him and he dreams of becoming a professional one day. Fitting of his preference for guns and cameras, Noctis notes Prompto is a technophile.
Prompto's personality remained mostly unchanged during the ten years Noctis was away, even though physically, he matured to the point of being completely independent from his friends when hunting daemons, causing Noctis to note it Prompto does not feel any different.
Ray Chase, Noctis's English voice actor, has commented in Prompto's design thusly: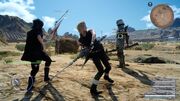 Prompto equips firearms as his primary arm, including handguns and shotguns. Prompto's secondary arm is machinery, which allows him to equip tools like Auto Crossbow and Bioblaster. He can co-opt moves with Noctis and has the lowest HP of the party. Prompto has five Techniques. He can take photos, an aspect of many quests in the game, and the player can set various filters for him. Prompto can be fought during training sessions at campsites. From Chapter 12 Prompto will be unavailable for a while. In Chapter 14 Prompto can be seen using two firearms although he can still only be equipped with one.
Final Fantasy XV: Episode Prompto is a DLC episode where the player plays as Prompto in third-person shooter with stealth elements.

Creation and development
Edit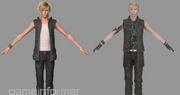 Prompto's design went through an overhaul during development since he was first unveiled for Final Fantasy Versus XIII, which ended up being reworked into Final Fantasy XV. His hair was straightened, spiked up, and changed golden blond from its curly dirty blond inceptions, and his facial features were modified as well to give him a more rugged, masculine look.
His face was again redesigned from the version unveiled at E3 2013 when the game was re-announced as Final Fantasy XV. Prompto's hair and facial features were altered after receiving negative feedback so that users around the world would better receive the game.[2] Yusuke Naora is one of three art directors on Final Fantasy XV, and one of his early tasks on the project was to update the look of the characters from their incarnation in Final Fantasy Versus XIII.[11]
As opposed to Gladiolus and Ignis, Prompto was designed to be an average citizen with no training. His roots thus shine through in his behavior and battle skills.
It was originally envisioned all party members would be playable with Prompto able to manually aim firearms that could be used to target enemy weak points. However, the battle system was later changed to make only Noctis directly playable.
Director Hajime Tabata has explained that black has historically been treated as a special color in the kingdom of Lucis. Thus the attire of the royal family, and those in occupations closely tied to it, wear black.[12] The art staff wanted to make it easy to distinguish the characters even though they all wear black. The team wanted to make them come alive both in technical and artistic ways, and ways to make the characters relatable were discussed endlessly. At the beginning of the development, a special unit was formed to create the cast's personal traits. The team also paid attention to feedback from players, especially in Prompto, whom many found annoying for the contrast he'd behave compared to the others. The team decided to emphasize certain parts of Prompto's character to make him more likeable,[13] and make the game's photography feature part of his character to bring him closer to players and make them appreciate him being a party member.[14] His depiction in Brotherhood Final Fantasy XV was also designed around the goal of making him more likable.[15]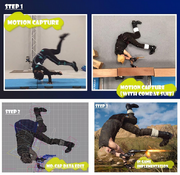 A Final Fantasy XV animator, Toyama, shared some details on how Prompto was animated via official social media. Using motion capture, the animators filmed their own movements either in special mo-cap suits, or in what the characters actually wear in the game. The recorded data was polished by adjusting the poses and movements, adding finger animations, etc. before the animations could be implemented. The animators checked how the character movements flowed together with the clothes, which were controlled via cloth simulator. Aside from animations, a variety of things needed also to be checked, such as SFX and VFX.[16]

Prompto is voiced by Tetsuya Kakihara in Japanese. In Brotherhood Final Fantasy XV and Episode Prompto, his younger self is voiced by Aki Kaneda.
In English, he is voiced by Robbie Daymond. His younger self is voiced by Griffin Burns.[4] Prompto's writing changed slightly to suit Daymond's delivery, and after a few recording sessions, the localization team abandoned listening to the Japanese, which is unusual for a Japanese dub.[17]
Other appearances
Edit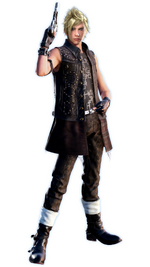 Prompto appears as a guide to the player.[18]

Legend Cards
Prompto appears as a wind-element ability card in Mobius Final Fantasy. His ability is Piercer which is a ranger ability that single-target wind attack that adds boost and snipe and lowers defense against Break and defense against crits. He produces seven wind orbs in battle. His auto-abilities are Improve Criticals+8% and Piercing Break+8%. He can be obtained from the Ability Card Shop or through Summoning.
Non-Final Fantasy guest appearancesEdit
Terra BattleEdit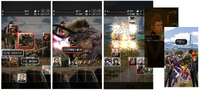 Prompto appears as an obtainable character during the Final Fantasy XV collaboration event.

For Whom the Alchemist ExistsEdit
Prompto appears as an obtainable character during the Final Fantasy XV collaboration event.
Other media
Edit
Prompto appears on a sticker set for the LINE communications app. The sticker set he appears in is titled "ファイナルファンタジーXV".[19]
Merchandise
Edit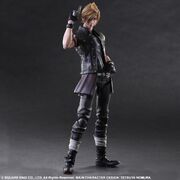 Prompto is available as a Play Arts -Kai- figure.

Etymology
Edit
[view · edit · purge]Prompto is a Latin word, from which the English word "prompt" was derived. Prompto may mean "for the ready [man]", or "for the quick [man]".
[view · edit · purge]Argentum means "silver" in Latin.
Thus, Prompto's name may have been an incorrect attempt to translate "quicksilver" into Latin. [view · edit · purge]Quicksilver is an alternative name for the element mercury. A heavy, silvery d-block element, mercury is the only metallic element that is liquid at standard conditions for temperature and pressure.
Final Fantasy XV's marketing director, Akio Ofuji, has said that Prompto is his favorite character.[20]
The player can repeatedly rest at Hammerhead in Chapter 14 to get various bits of incidental dialogue with the party members talking about what they have been up to, including Gladiolus telling the party about his girlfriend, and Prompto asking Gladiolus for tips for dating women.
Prompto will sometimes sing the traditional Victory Fanfare at the end of battle, the version of which appeared in Final Fantasy through Final Fantasy VI, and returned in Final Fantasy IX, Final Fantasy XII, and Final Fantasy XIV. The game does not otherwise have a victory theme after battle, as it reserves it for making camp or sleeping at an inn.
Prompto's MT unit number is 05953234.
External links
Edit
References
Edit