Primal
Talk

5
14,787 pages on
this wiki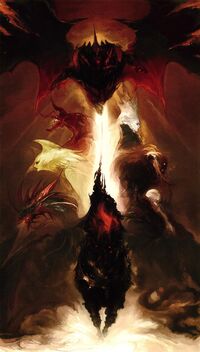 "O mighty Ifrit, Lord of the Inferno and Champion of Sun! Thy humble servants have summoned Thee forth from the boundless aether, that Thou might cleanse these heathens' souls of their transgressions with Thine holy flames."
—Amalj'aa Transfigurator
The Primals (蛮神, Banshin?, lit. "Barbarian Gods"), also known as "eikons" are magical beings in Final Fantasy XIV who are worshiped by the beast races of Eorzea. They all are classic Final Fantasy summons, and may be related to both the Echo and the sudden new attacks from the Garlean Empire, who considers them a powerful threat. Each beast race has its own Primal and plans to use them to its own ends, either to harass the city-states, self protection or to fight against the Garleans.
A decade ago, after Midgardsormr was killed in the Battle of Silvertear Skies and its seal on the aether beneath Silvertear Lake was broken, the Primals were allowed to be summoned by the beast tribe. The summoning rituals requires a massive amount of crystals and shards of the same type used by crafters, a fact that prompted some of the beast races to stop selling those shards to the city-states.
Due to the presence of Primals in Eorzea and the massive amount of energy needed to summon them, it is said that the flux of aether over Silvertear Falls has been disrupted and the whole land of Eorzea will slowly perish if this process isn't reversed. This may be one of the reasons behind the Garlean Empire's campaign to destroy the Primals, with Gaius Van Baelsar achieving a permanent means through the Ultima Weapon's ability to absorb a Primal.
All quests related to Primals in the original release of the game involve Louisoix, the leader of the Circle of Knowing, who came down from the north in response to their impending threat.
Known Primals are:
Out of all the beast tribes, Goblins and Qiqirn are the only ones whose Primals are currently unknown.
Egi are tiny versions of Primals. Only Summoners can summon them.
In the original opening CG of version 1.0, it is possible to see the shapes of Ifrit and Titan emerging from the aether pillar formed after the death of Midgardsormr. Compared to Ifrit, Titan makes no appearance in the storyline until A Realm Reborn.
The Garlean word "eikon" may derive from the Greek word eikon, translated in English as "image", which is the root word for the English work "icon" whose early definition was religious imagery.
On the bonus disc included with the physical collector's edition of Final Fantasy XIV: A Realm Reborn, Midgardsormr is referred to as an Elder Primal. However, the development team has confirmed this is an error.[1]
References
Edit