Final Fantasy X-2 Boss
Precepts Guard
護法のガーディアン (Gohō no Gādian)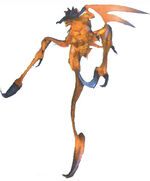 Spirit Beast
Statistics
Level
HP
MP
21
3,680
9,999
Strength
Magic
Defense
32
62
34
M. Defense
Agility
Accuracy
38
63
0
Evasion
Luck
0
0
EXP
AP
Gil
700
1
800
| | |
| --- | --- |
| Location | Bevelle Underground |
| Chapters | 2, 3, 5 |
| Common Steal | Mana Tablet |
| Rare Steal | Mana Tablet x2 |
| Gil Steal | 1,600 |
| Common Drop | Regen Ring |
| Rare Drop | Regen Ring |
| Common Bribe | None |
| Rare Bribe | None |
| Abilities | Bio, Death, Demi, Drain, Slow |
| Blue Bullet | None |
| Status Resist | {{{Status Resist}}} |
| Status Immunity | {{{Status Immunity}}} |
| Other Information | N/A |
Precepts Guard
護法のガーディアン (Gohō no Gādian)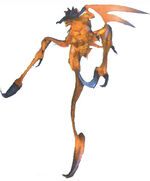 Spirit Beast
Statistics
Level
HP
MP
33
7,864
9,999
Strength
Magic
Defense
78
62
34
M. Defense
Agility
Accuracy
38
82
0
Evasion
Luck
0
0
EXP
AP
Gil
1,500
2
1,200
| | |
| --- | --- |
| Location | Bevelle Underground |
| Chapters | 2, 3, 5 |
| Common Steal | Recovery Bracer |
| Rare Steal | Recovery Bracer |
| Gil Steal | 3,600 |
| Common Drop | Mana Tonic x3 |
| Rare Drop | Mana Tonic x4 |
| Common Bribe | None |
| Rare Bribe | None |
| Abilities | Anti-Dressphere, Bio, Blizzard, Death, Demi, Drain, Fire, Magic Catalyst, Slow, Thunder, Water |
| Blue Bullet | None |
| Status Resist | None |
| Status Immunity | Death, Petrification, Sleep, Silence, Poison, Confusion, Berserk, Curse, Eject, Slow, Stop, Doom, Multiple Damage |
| Other Information | N/A |
Normal: "A fiend charged with guarding the Bevelle Underground and eliminating intruders. It never attacks head-on, but commands a fearsome array of magical attacks."
Oversoul: "Now able to use physical attacks in addition to magic. However, if the battle drags on, it will shift its focus to even more potent magic."
— Scan
The Precepts Guard is a boss in Final Fantasy X-2 fought after activating the three blue towers in the Bevelle Underground. It is based on the Spectral Keeper enemy of Final Fantasy X.
Precepts Guard can cast spells like Bio and Demi and can drain the party's HP and MP. It can also inflict the party with Slow, and cause Instant Death. To defeat this fiend, the girls need to attack it with their strongest attacks and magic. Precepts Guard is weak to Holy, so attacks like a Warrior's Excalibur does heavy damage.
Precepts Guard Coin
Coin No.
53
Coin Value
4
Trait
Quota x3
Location
Win from the Marrrvelous Core Sphere player in the Luca Stadium.
Related enemies
Edit