The Praetorium is the final dungeon in the main scenario storyline of Final Fantasy XIV.
By clearing this dungeon, the player will obtain 20 Allagan Tomestones of Poetics.
Musical themes
Edit
"Penitus" plays throughout the dungeon. It contains Latin chorus and was composed by Masayoshi Soken.
Other appearances
Edit
Dissidia Porta Decumana appears as a stage in the arcade reboot, and is the first stage representing Final Fantasy XIV.
As with other stages, it features a stage transition. In the beginning of battle, the stage will elevate upwards until it reaches the top, wherein flames and destruction will engulf the stage, referencing Lahabrea's use of the Weapon.
TFFCC The Praetorium appears as the Battle Music Sequence for "Ultima".
Pictlogica Final Fantasy
Edit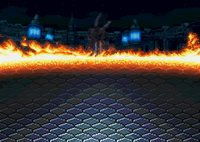 Etymology
Edit
The Latin term praetorium originally signified a general's tent within a Roman castra, castellum, or encampment.