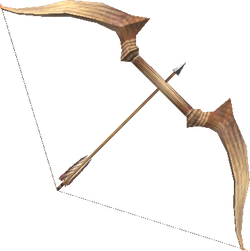 Power Bow (パワーボウ, Pawā Bō?) is a recurring weapon in the series.
Appearances
Edit
IV Great Bow was renamed to Power Bow in the Easy Type version. it has 30 attack and 50 accuracy. It can be used by Cecil, Rosa, Rydia, Edward, Cid, Palom, and Porom.
In the 3D versions, it can only be used by Rosa and instead provides 20 attack, 75 accuracy, and +3 Strength. It can be found in Damcyan.
TYPE0 Power Bow is a weapon for Trey. It provides 12 Attack Power and can be bought from Cetme for 2000 gil. It sells for 200 gil.
Ad blocker interference detected!
Wikia is a free-to-use site that makes money from advertising. We have a modified experience for viewers using ad blockers

Wikia is not accessible if you've made further modifications. Remove the custom ad blocker rule(s) and the page will load as expected.