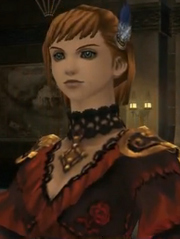 Portia Fonteyn is a non-playable Hume dancer in Final Fantasy XI. The mother of Lilisette, she was a member of a dancing troupe led by Alexei Mayakov during the Crystal War. She was one of the group's more talented performers and the most accomplished fighter among its ranks. Her skill in combat led her to accompany Ragelise B Baloumat, a San d'Orian knight, in the campaign against the Beastmen.
Other appearances
Edit

Portia appears in Final Fantasy Trading Card Game.

This article or section is a stub about a character in Final Fantasy XI. You can help the Final Fantasy Wiki by expanding it.
Ad blocker interference detected!
Wikia is a free-to-use site that makes money from advertising. We have a modified experience for viewers using ad blockers

Wikia is not accessible if you've made further modifications. Remove the custom ad blocker rule(s) and the page will load as expected.